Ivanka Trump quoted Jane Goodall in her new book. This was Goodall's response.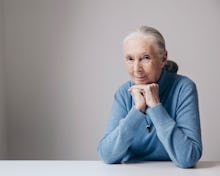 In Ivanka Trump's newly released book, Women Who Work, the first daughter and assistant to the president quotes one Jane Goodall, the 83-year-old scientist and environmental advocate known for her work with chimpanzees.
The Goodall quote Trump chose? "What you do makes a difference, and you have to decide what kind of difference you want to make." 
Now, Goodall has a response for Trump — and her powerful father.
In a statement to CNN on Tuesday, Goodall said she didn't know Trump was planning to use her quote in the book, but she had some advice to offer her. "I sincerely hope she will take the full import of my words to heart," Goodall said. "She is in a position to do much good or terrible harm."
The statement continued:
Legislation that was passed by previous governments to protect wildlife such as the Endangered Species Act, create national monuments and other clean air and water legislation have all been jeopardized by this administration. I hope that Ms. Trump will stand with us to value and cherish our natural world and protect this planet for future generations.
Goodall, who has devoted her life to studying animal behavior and advocating for conservationist causes, has been an outspoken critic of President Donald Trump. During his campaign for the presidency, she told the Atlantic that "in many ways, the performances of Donald Trump remind me of male chimpanzees and their dominance rituals."
More pointedly, she has criticized his vacillating stance on the existence of climate change and his work to undo former President Barack Obama's climate policies. 
Speaking to reporters in March, she called Trump's actions to undo Obama's clean power plan "immensely depressing."
"Thinking that the U.S. isn't going to play its part, such a major industrial country, is really very, very sad and it just means we're going to have to work harder," she added, according to the Guardian.
Ivanka Trump has made no public response to Goodall's plea that she use her power and influence to help protect the planet, but a spokesperson for Trump told CNN the book isn't meant to be political. 
"Ivanka has always believed that no one person or party has a monopoly on good ideas," her representatives said in a statement.