Freddie Prinze Jr. shares his favorite memory from working with Paul Walker on 'She's All That'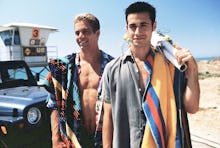 Before his role as Brian O'Conner in The Fast and the Furious franchise became his signature, Paul Walker was known for playing the lovable jock in films like 1998's Pleasantville and 1999's Varsity Blues.
He dropped the lovable and retained the jock for his role as Dean Sampson alongside Freddie Prinze Jr. in the 1999 teen classic, She's All That.
Following Walker's unexpected death in 2013, Prinze's wife, Sarah Michelle Gellar tweeted out her condolences on behalf of the Prinze-Gellar household.
Now, in a new, expansive profile for Mic, Prinze shares a never-before-told story about his hand in casting Walker in She's All That.
"When he auditioned for the film, the other actor that auditioned for the role was very good, but Paul and I just connected. I had cast consultation, which basically means approval 'cause they don't want you working with someone you don't like. And so they were asking who I dug and I said, 'It's Paul. I really like that guy's vibe.'"
"And I knew, because it was Miramax, that they were going to try and hose him on the deal and offer him like scale plus 10. So I ran downstairs down to the parking lot and was like, 'Hey, dude, dude,' — I said 'dude' because I was in my 20s — and I said, 'Listen man, this role can be yours. They're going to offer you scale 10. They got 75 grand in the budget. Make sure you hold out. I promise you're getting the role.'
"And so we make the movie, it's a great experience, and years later, a really good friend of mine who knows his family very well, said he was talking to Paul's mom, and she told me the story that I just told you, and she said, 'Paul never forgot that, and he always appreciated you for that.' And it made me cry — yes I cry — because it made me feel good, but it's saddening at the same time when anyone is taken too soon. I've already gone through it with a frickin' father, so I don't need to go through it with friends. But he was a really special guy — and that's one of my favorite memories."
Read our entire Freddie Prinze Jr. profile here.