Mosul by the numbers: The road to rebuilding after liberation from ISIS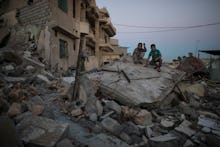 The eastern half of Mosul, Iraq, is once again free after nearly three years under Islamic State rule — and experts are busy assessing the damage the city has sustained.
The first reports emerging from the war-torn area are bleak. Officials estimated that infrastructural damage to the city's airport, train station and university will take billions of dollars and several years to repair, according to Reuters.
Meanwhile, Mosul's western half is still an ISIS stronghold, with militants carrying out suicide bombings in the streets in an attempt to maintain control of the city.
"After Mosul is fully liberated, we need a working plan to restore things to the way they were before 2014, when [the] Islamic State took over," Noureldin Qablan, deputy chairman of the Nineveh provincial council, told Reuters.
But what will it take to get the city, which was once a bustling marketplace full of ancient relics, back to its former glory? Here are the numbers.
Five
The number of years officials told Reuters it would take, at minimum, to repair the city's infrastructure and economy.
Six
The number of months it would take for repair crews in Mosul to restore basic amenities like running water, electricity and fuel, and to resettle those displaced by the war, according to Reuters.
2,000
The number of ISIS fighters Brig. Gen. Abbas al-Jabouri estimated were left inside of Mosul in March, according to CBS News.
500,000
The number of people remaining in ISIS-controlled territory in Mosul, as estimated by the United Nations Office for the Coordination of Humanitarian Affairs. Lise Grande, humanitarian coordinator for Iraq, said more than 493,000 people had already fled Mosul, "leaving almost everything behind."
2015
The year ISIS militants released footage showing them smashing precious artifacts inside Mosul's antiquities museum. 
Though the artifacts were first thought to be replicas stowed in the museum as decoys after the originals were safely evacuated to Baghdad, Iraqi archeologists who examined photographs of the destruction taken by the Associated Press confirmed that many of the items were indeed originals, some of which were thousands of years old.
$5,000
The average amount Qablan estimated it would cost to repair each house in Mosul. Although the number may seem low, underfunded budgets in Baghdad's central government mean it will still be difficult to afford the work.
52 billion 
The number of Iraqi dinars — equivalent to roughly $44.5 million — allocated to the Nineveh province in 2017. Qablan called it "a very small sum for a province this size."  
"In 2013 we were allocated 738 billion dinars, yet after all this destruction we get just 52," he told Reuters. "It is very hard to reach our goals with this sum, so we are counting on foreign grants."