Why was Capheus recast in 'Sense8' season 2? The reason for Aml Ameen's departure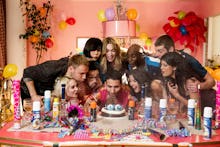 In a show which requires its actors to film massive, writhing orgy scenes, just one odd actor out can throw off the group dynamic. That's probably why Sense8 creator Lana Wachowski felt the need to replace lead Aml Ameen, who played Capheus, amid reports of "creative differences." Fans may have already noticed Ameen's replacement, Toby Onwumere, who made his debut in the Netflix show's Christmas special in December.
When Deadline first reported the news of Ameen's departure in April, sources claimed tensions between Ameen and Wachowski had flared up publicly during table reads and filming. Although Ameen himself never confirmed his reason for leaving, his costar Jamie Clayton, a transgender actress who plays transgender hacker Nomi, took to Twitter after news broke to express her clear dislike of Ameen and her joy at his departure. In response to a fan asking whether Ameen's exit would hurt the series, she tweeted: "IT WON'T! NOW THE WRITING & CHARACTER CAN SHINE AS THEY WERE MEANT TO!"
She followed this up with some more shade, responding to a fan that "hate is horrible."
Despite seemingly shutting down the show's "creative differences" line with her tweet about "hate," Clayton soon addressed fan speculation over whether Ameen had shown transphobic behavior on set.
The show's creator Wachowski, herself transgender, is known for encouraging camaraderie and tolerance among her casts, so it makes sense that any deviation from that — whether "hate-related" or otherwise — would naturally disrupt her creative process.
In any case, Ameen's whirlwind on-set fallout resulted in a similarly speedy recasting process, as Sense8 was already filming season two when Ameen parted ways with his castmates. As IndieWire reported, newcomer Onmuwere met with producers shortly after Ameen's sudden exit and was cast mere days after auditioning for the show. It only took one meeting between Onmuwere and the show's original seven "sensates" for them to feel "like a family."
Onmuwere, whose surprise appearance in the Christmas special was addressed with a line about the character looking "different," will reprise his role in season two of Sense8, which debuts on Netflix on Friday. 
Mic has ongoing coverage of Sense8. Please follow our main Sense8 hub here.