These 10 top-rated "made in America" products are high-quality — and let you buy local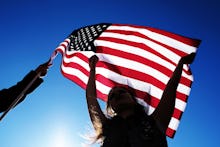 Want to help keep the United States economy humming by buying products made here? Almost 80% of people responding to a Consumer Reports survey said they'd rather buy goods made on American soil.
Buying U.S.-produced goods supports local jobs and innovation, may reduce your carbon footprint (thanks to lower shipping costs) and gives you the confidence of knowing that the products you purchased were produced in a country with decent worker-protection laws.
Unfortunately, finding locally produced products can be a challenge — but we can help. Check out this list of the 10 top products made in the U.S., which Mic created by cross-referencing trusted consumer reviews with a list of 50 American-made products compiled by Cheapism: 
1. Weber grills
All models of the classic Weber grill are made in Palatine, Illinois, except for gas models produced overseas, Cheapism noted. Weber's basic design has remained the same since 1952, and the reliability and widespread availability of Weber grills has made its charcoal grills — usually priced at around $100 — best sellers. They are durable, effective at grilling and easy to clean, all of which helps explain why Weber had the highest overall customer satisfaction ratings out of 14 grills rated by Consumer Reports. 
2. KitchenAid mixers
If you prefer to do your cooking indoors, a KitchenAid mixer made in Greenville, Ohio, is a valuable tool that has been making life easier for chefs and bakers for more than a century. The KitchenAid Artisan Series Stand Mixer, which comes in 25 colors and costs $350, has "exceptional performance at all mixing tasks" and was named a "top performer" by Good Housekeeping. 
3. Vitamix blenders
If blending is more your speed, consider buying from Vitamix, which employs hundreds of workers in Olmsted Township, Ohio, where it was founded in 1921. While the blenders don't come cheap — some models priced at more than $500 — they are "worth the splurge," according to Consumer Reports. That's because a powerful blender makes it easy to make everything from soups to smoothies. Even better, Vitamix blenders had the highest satisfaction ratings, easily beating out cheaper brands like Black & Decker.
4. Lodge cookware
Ready to do some actual cooking? Based in South Pittsburgh, Tennessee, Lodge is the oldest family-owned cookware manufacturer in America. Its cast-iron skillets, grill pans and bakeware are naturally non-stick and can withstand high oven temperatures. "The high-grade pre-seasoned cast iron skillet can cook, sear, sauté, bake, broil, braise, fry or grill a wide variety of foods with ease," noted Wise Bread, which named it a top pick. The 12-inch skillet sells for as low as $27, and its versatility and durability earned it a nod from Consumer Reports as well. 
5. Viking appliances
Viking's high-end ovens, refrigerators and other products are all manufactured near its Greenwood, Mississippi headquarters, Cheapism reported. "This is a beautiful professional range with heavy-duty controls that are a breeze to use," notes Good Housekeeping, which recommends Viking's 30" Open Burner Gas Range for its even heating and a fast boiling speed, among other features. But with a price exceeding $4,000, quality obviously comes at a cost. 
6. Aquasana filters
If you enjoy clean water but don't like the cost or environmental impact of bottled water, consider Aquasana's filter manufactured in Texas. "High-end filtration systems like the Clean Water Machine... are completely American-made," Cheapism reported. Aquasana's AQ-4000 countertop filter is "excellent at removing lead and chloroform," Consumer Reports noted. 
7. Benjamin Moore paint
Time to freshen up the paint job on your walls? Owned by Warren Buffett's Berkshire Hathaway, Benjamin Moore produces more than 3,500 paint colors in New Jersey, and you can find gallon-size cans of the locally made paint for as little as $40, Cheapism reported. The brand also ranked highest in consumer satisfaction "with interior paint and exterior stain" in a 2016 J.D. Power study.
8. Igloo coolers
No summer barbecue is complete without a cooler full of cold drinks. Igloo produces coolers in a 1.4-million-square-foot facility located near Houston, Texas, according to Cheapism, and prices ranging from a $20 basic cooler to a $100 thermoelectric unit. The Igloo Sportsman's large size and ease of handling made it a top pick by Field & Stream, which noted, "The bare-bones Sportsman excels at its one big job — keeping things cold. And it does so at a can't-be-beat price."
9. New Balance shoes
Not every New Balance athletic shoe is made in the U.S., but New Balance manufactures more footwear in this country than any other brand, Cheapism noted. More than 4 million pairs are manufactured by New Balance annually, containing at least 70% domestic materials and carrying "Made in USA" labels. Prices range from $55 to $140, according to Consumer Reports, and the New Balance 895 Superlight Superfresh was described as "among the most comfortable" by testers for Good Housekeeping. 
10. Harley-Davidson bikes
Headquartered in Milwaukee since 1903, Harley-Davidson actually has manufacturing facilities across the globe. While it contract manufactures many parts outside the U.S., assembly, fabrication, welding, polishing and painting are largely done on U.S. soil, at facilities in York, Pennsylvania, Kansas City, Missouri and two locations in Wisconsin — Tomahawk and Menomonee Falls. 
Harleys range in cost from $8,000 to $40,000, according to Cheapism, and the $19,000 Road Glide earned top marks in 2017 from Popular Mechanics. Owner satisfaction is high too, with 72% of owners saying they'd buy the same bike again, according to Consumer Reports.
Sign up for The Payoff — your weekly crash course on how to live your best financial life. Additionally, for all your burning money questions, check out Mic's credit, savings, career, investing and health care hubs for more information — that pays off.