Gabourey Sidibe to all her body shamers: "It's mine, so I will police it, thank you."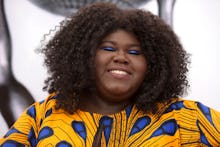 Add actress Gabourey Sidibe to the list of women like Serena Williams, Ashley Graham, Danielle Brooks and Ariel Winter who live their lives by the motto: "My body, my business." 
In an interview with NPR about her memoir, This is Just My Face: Try Not to Stare, Sidibe revealed the rationale behind devoting an entire chapter of the book to MYOB — which stands for "Mind your own body." 
Sidibe has faced criticism for her looks for years, but has remained resilient by simply loving and appreciating herself and her differences. 
"I am plus-size, I have dark skin and I am 100-percent beautiful, but I get a lot of flak," Sidibe said. "'Oh, you should lose weight.' And now that I have lost weight — I lost weight for health reasons — I get, 'You look good, but don't lose too much weight because your face is starting to sink in.'"
All of this policing has, frankly, gotten Sidibe fed up. 
"People do this to me," she said. "People staring at me. But also, this has been my body since I was 5ish, you know? It's been a 30-year thing of other people putting their own stuff on my body. But it's mine, so I will police it, thank you." 
With that bold exclamation of ownership, Sidibe is standing up for women like herself — think Queen Latifah, Danielle Brooks and Dascha Polanco — who defy the Hollywood norm of thin, white, tall and blonde, and love themselves for that and more.