Rex Tillerson finally addresses the department he runs, clears up nothing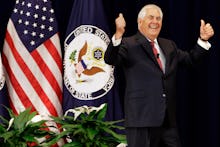 Secretary of State Rex Tillerson addressed his employees on Wednesday for the first time in three months — but did he do enough to clear up the shadow of uncertainty the Trump administration has cast over his department?
In a speech to the entire Department of State — his first since Feb. 2 — Tillerson offered broad policy outlines on North Korea, Russia and the Middle East, as well as a guarded, vague explanation of the administration's plans to overhaul the organization.
Tillerson said the Trump administration is preparing new sanctions against North Korea and pushing China, an ally of the isolated country, to throw its weight behind curbing Pyongyang's nuclear program. He also said that he is working to "stabilize" relations with Russia after a United States strike on Syria further escalated tensions between Washington and Moscow.
But Tillerson — who opened a so-called "department-wide listening mission" on Wednesday — did not go into detail about the Trump administration's plans for the future of the Department of State, which includes large proposed budget and personnel cuts. 
"We're all on this ship — on this voyage — together," Tillerson said. "So we're going to get on the ship and take this voyage and when we get there, we're gonna get off the ship wherever we arrive. But we're all going to get on and get off together. We're not going to leave anybody behind."
Almost 200 department jobs still vacant under Tillerson
As part of his "skinny budget," President Donald Trump proposed slashing the Department of State and the U.S. Agency for International Development by 28.5%. Tillerson has expressed support for those cuts, many of which targeted "soft power" initiatives, saying that current State spending was "not sustainable."
That — and a plan to cut at least 2,300 jobs from the department — has soured many department employees to Tillerson, according to Politico. 
"He's dug such a big hole, it's going to be hard to get out of," Ilan Goldenberg, a former State Department official now with the Center for a New American Security, told Politico ahead of Tillerson's address.
On Wednesday, Tillerson said that the "listening tour" would provide the administration guidance on how to structure the department for the future — but, State staffers told Politico, it feels to some that the secretary is asking for guidance after having already made up his mind.
A U.S. diplomat in the Middle East told Politico that there appeared to be a "disdain for foreign policy expertise and the department in general" under Trump and that both the department's structure and vision is muddy.
Compounding that uncertainty is the fact that Tillerson has yet to fill nearly 200 vacant positions at the department, and evidently has no plans to do so in the immediate future, likely dooming the posts to stay empty until deep into 2018.
"Mr. Tillerson's laid-back approach to filling top management positions, especially the workhorse jobs of assistant secretary, is nevertheless risky," the New York Times wrote in an editorial published Wednesday. "North Korea, Russia and China are getting a lot of top-level attention, but who's watching out for Afghanistan or the Balkan region, which is showing signs of unraveling after two decades of American leadership helped restore some stability?"
"Mr. Tillerson may not have wanted to be secretary, but he accepted the job and bears responsibility for how he carries it out," the Times editorial board continued. "He needs the best possible permanent team to help him."