GOP's health care bill passes in the House, heads to the Senate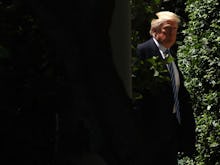 Republicans passed the American Health Care Act by a razor-thin margin as their hurried health care vote captivated the country. Without public hearings or time to judge how the bill would affect Americans, enough Republican moderates supporter the bill to take the first step toward Donald Trump's promise to "repeal and replace" the Affordable Care Act.
The bill passed by a vote of 217 to 213, with one Republican not voting. 
The AHCA gives less financial support to older and sick Americans and the Congressional Budget Office estimates 24 million people will lose insurance. Younger and healthier people would see cheaper insurance. It would roll back Medicaid expansion in some states. 
A sticking point was pre-existing conditions. Far-right Republicans demanded an amendment that would ultimately allow insurers to charge customers with pre-existing conditions more. Meanwhile, more moderate Republicans worried that doing so would price Americans with chronic health conditions out of the insurance market.
Republicans added an additional $8 billion to help cover people with pre-existing conditions who could no longer afford insurance under the AHCA. That was enough to convince moderates to come on board. Critics believe $8 billion is nowhere near enough for the 52 million Americans with pre-existing conditions.
The bill now heads to the Senate, where its fate is very much in question. At least a half dozen Republican senators said they would not vote for the previous version of the AHCA. Republican senators are extremely skeptical the Senate can pass the AHCA. That's more than enough to kill the bill in the Senate without compromise.