Emma Watson FaceTimed with a fan who was studying for an exam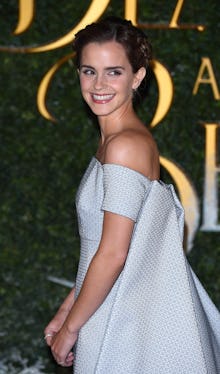 Emma Watson's been doing quite a bit to advocate for gender equality over the last few years, from her #HeforShe campaign to helping women love themselves as they are. But she's not just a grand scale activist — Watson's been known to bolster confidence one-on-one as well. 
Just ask teen Theresa Kiara. Last week, Kiara's mom was on a trip to New York, and happened to notice the actress was standing behind her. She politely asked Watson if she wouldn't mind FaceTiming with her daughter Theresa, who was at home studying. And lo and behold, a teenage dream was achieved. 
According to Kiara, Watson "was so kind and sweet" and told her to "study hard." 
While an albeit brief FaceTime conversation with a favorite celebrity might seem like it would be a distraction, Kiara wrote in a Facebook post it was "[the] perfect motivation to study." 
Here's the entire post Kiara shared about their interaction. 
It's somewhat surprising the Beauty and the Beast star allowed such an interface to take place considering she recently told Vanity Fair she's now declining to take selfies with fans for safety reasons. 
"I have to carefully pick and choose my moment to interact," she explained. "When am I a celebrity sighting versus when am I going to make someone's freakin' week? Children I don't say no to, for example."
She obviously made Kiara's "freakin' week," and probably the thousands of fans who liked, commented and shared Kiara's post as well. 
This personal motivation moment isn't the first time Watson's encouraged her fans to expand their minds. In January 2016, she started a book club called "Our Shared Shelf" designed to get people to read books about equality and feminism and share their thoughts online. Watson also regularly posts photos of herself with the current book on the reading docket on her social media channels, so fans can also follow along there. 
Some fans may have even come across her planting books on the New York City subways. In a world that's becoming more and more digital, Watson hopes her small book-hiding efforts will bring people back to the tangible page. 
"So if you're on the subway, and you find a copy of this book, read it, please, and then bring it back for someone else to find," Watson said, Vanity Fair reports. "Pass on the good deed and the love. There's a new library happening!"
Mic has ongoing Emma Watson coverage. Please follow our main Emma Watson hub here.