White man beats Asian victim in New York City while shouting "We are white power"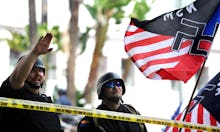 On Monday, the New York Police Department arrested and charged Steven Zatorski — a 48-year-old white man — for assaulting an unidentified 30-year-old Asian male in Midtown Manhattan around 10:40 a.m. Eastern. 
While kicking the victim, Zatorski shouted, "We are white power," a spokesman for the NYPD said in an email. Zatorski also shouted several other racial and xenophobic epithets at his victim. 
"You are a fucking immigrant, go back to your country," Zatorski reportedly said. "What the fuck are you doing here? Here in my country, we are white power." 
Witnesses at the scene of the assault notified a police officer, who arrested Zatorski without incident. The victim told the NYPD that Zatorski kicked him two times on his leg and punched him in the face and back of the head multiple times. The victim suffered pain, swelling and bruising to his right eye. His injuries were treated at the scene of the attack
Zatorski has been charged with assault as a hate crime and was held in Rikers Island on $5,000 bail, the New York Daily News reported.
The assault comes just days after two bias-motivated attacks in San Diego, California, and Lexington, Kentucky. On Sunday, Peter Selis — a white man — stormed a pool party and shot three black women, two black men and one Hispanic man. Selis killed one black woman in the attack. Selis was fatally shot after he aimed his gun at police officers.
On Friday, 19-year-old Mitchell W. Adkins — armed with a bag of knives and a machete in hand — attacked liberal students at Transylvania University. He asked students if they were Democrat or Republican. After a female student said she was a Democrat, Adkins attacked her. Prior to the attack, Adkins wrote several blog posts and a letter to the campus newspaper about how he felt he was persecuted on campus because of his conservative beliefs. 
According to the NYDN, Zatorski also reportedly lives in a million-dollar condo in Midtown Manhattan called the Cammeyer.  
The NYPD did not respond to Mic when asked if there's any information on how Zatorski might have been radicalized into enacting a racially motivated hate crime.
Correction: May 9, 2017