17 times TV shows recast characters over the years — and audiences rolled with it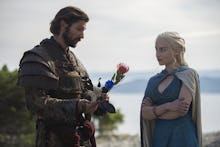 Fans of Sense8 may have recently noticed a new actor in the role of Capheus in season two of the Netflix show. It was hard for viewers to ignore the obvious casting change, especially after the show dropped a not-so-subtle line about how the character looked "different." 
Of course, Sense8 isn't the only show to have quietly replaced an actor with the hopes that viewers wouldn't notice. Check out 17 other times that the TV gods tried and failed to trick us with their recasting.
1. Game of Thrones
When the actor playing Daenerys' hunky boy toy, Daario, was replaced by an equally hunky but obviously different (and super brunette) actor in season four, HBO kept their mouths shut and expected us to accept this change without explanation. Ed Skrein, who played the original Daario, later explained to Entertainment Weekly that he had been replaced by Michael Huisman for "political" reasons. Skrein was most recently in Deadpool as the villain Ajax. 
But wait, there's more. The actor who played The Mountain was replaced in season four by the towering, 403 lb. Hafþór Júlíus "Thor" Björnsson. 
The show also recast the child actors playing Tommen and Myrcella when their characters took on bigger roles (and, like, six other actors who only appeared in the unaired pilot or in cameos before their characters took on bigger roles).
2. Mad Men
By the time Mad Men was rolling out its fourth actor for the role of Bobby Draper in 2012, we had already accepted that no Bobby was safe on this show. However, Kiernan Shipka, who played Sally Draper, later told Vulture that there had in fact been eight different Bobbys throughout the course of the show. Some were so short-lasting that they earned the coveted nicknames of "Pillow Face Bobby" or "Slurpee Bobby," in honor of their behavior on-set and respective functions within their episodes.
3. Boy Meets World
Similar to Lily Tucker-Pritchett's recasting on Modern Family after "baby" Lily grew up, Boy Meets World's spunky young Morgan Matthews was recast after her character grew up between seasons two and three. The show addressed this for its young, impressionable viewers with the totally understandable explanation that Morgan had "the longest timeout ever." Thankfully, both Morgans are now living fulfilling lives.
4. Fresh Prince of Bel-Air
Despite playing the main role of Aunt Viv, Janet Hubert decided that she was done with the role after three seasons on Fresh Prince of Bel-Air. Daphne Maxwell Reid then took over for Hubert in 1993 until the show ended in 1996. Hubert later spilled the tea to TMZ, calling costar Will Smith an "asshole" and an "egomaniac" who "has not grown up." We're guessing that's why she left? 
5. Last Man Standing
This ABC Tim Allen comedy didn't just replace one character between season one and season two: It replaced three! After Tim Doyle took over as showrunner, he decided to let some of the original cast go after citing "creative differences." Viewers, on the other hand, were left no explanation as to why three characters — Kristin Baxter, Boyd Baxter and Ryan Vogelson — had suddenly gotten facelifts. To be fair, the character of Ryan was played by Nick Jonas for only one episode, and he's kind of busy with other things.
6. Family Guy
This is one casting change that may have actually flown under the radar. After one season of voicing the role of Meg, totally fetch Mean Girls star Lacey Chabert left the show after running into some time conflicts with school and her Party of Five shooting schedule. Mila Kunis slyly replaced her in 2000, and most people didn't notice. (But no one notices Meg anyway.)
7. Arrested Development 
In a casting move that also doubled as a joke, Arrested Development producers recast Mae Whitman in the role of Ann Veal, George Michael's extremely forgettable girlfriend, after only one episode. Viewers barely remember Alessandra Torresani, the original Ann, which just reinforces Ann's perpetual, painful, superhuman forgettability. 
8. Friends
Ross's lesbian ex-wife Carol was played by Anita Barone for one episode before replaced by another skinny blonde, Jane Sibbett. The switch was so early on — in the series' first season — that longtime viewers barely remember. 
9. True Blood
When Luke Grimes left True Blood after playing Jess's prison boyfriend in season six, he claimed it was so he could pursue bigger projects. BuzzFeed later discovered it was because he didn't want to make out with guys as part of the character's bisexual storyline in the final season. He was quickly replaced by a much hunkier actor, Nathan Parsons, who made us forget all about Grimes. 
10. Pretty Little Liars
Over its seven seasons, PLL was especially notorious for suddenly recasting characters. Among those recast were Mrs. DiLaurentis, Kate Randall, Toby Cavanaugh and Ian Thomas. The most egregious switch-up was when the show replaced the actor playing Jason DiLaurentis after he had been on for most of season one. 
11. That '70s Show
Lisa Robin Kelly played Topher Grace's evil older sister for three seasons before suddenly disappearing for two more seasons. She later admitted her absence was due to alcoholism and drug problems, so it was no surprise when the show completely replaced her with Christina Moore in season six. 
12. Buffy the Vampire Slayer
Much has been made of the unaired "presentation pilot" of Buffy the Vampire Slayer, which has made waves on the internet thanks to its inclusion of Riff Regan in the role of Willow. Without Allison Hannigan's doe eyes and quirky delivery, Regan is a jarring presence for longtime fans.
13. Roseanne
Similar to Ann on Arrested Development, the role of Becky on Roseanne was a little bit of a joke for fans. After Lecy Goranson stepped down from her full-time role to pursue an education at Vassar College, Sarah Chalke (of Scrubs fame) took on the role for seasons five through nine. When Goranson became sporadically available for filming during season eight — thinking the season would be the show's last — she made a point to play the role whenever her schedule allowed. This meant that Chalke and Goranson alternated in the role for the entire season until Chalke took over again for season nine. 
14. The Munsters
Beverley Owen reportedly hated being on The Munsters set because it kept her from her fiance. After one miserable season of moping and crying on set, the studio released her from her contract and replaced her with Pat Priest. 
15. Family Matters 
After playing Harriette Winslow for eight seasons on Family Matters, JoMarie Payton suddenly left the show midway through the final season to focus on her jazz career. Some fans claimed that she made a cameo in the series finale, but Payton reassured them this wasn't the case. Judyann Elder filled in for the second half of the season.
16. Shades of Blue
NBC's Shades of Blue participated in a wife swap between seasons one and two. The role of Linda Wozniak was played by Lolita Davidovitch in season one, but due to a scheduling conflict, the show was forced to recast her in season two. Gossip Girl alum Margaret Colin took over the role of Lt. Matt Wozniak's wife.
17. Gossip Girl
Speaking of Margaret Colin — she wasn't initially cast on Gossip Girl. Although Colin is known as Blair's mom, Eleanor, the role was initially played by Florencia Lozano.
Mic has ongoing television coverage. Please follow our main TV hub here.