This is the only place you'll be able to watch HBO shows soon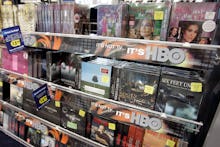 It's not TV, it's HBO. It's also not Amazon, as the original programming giant has now made abundantly clear. While fans may have enjoyed watching and re-watching HBO shows like The Wire, The Sopranos and True Blood on Amazon Prime, after sometime in mid 2018, Amazon users will have to pony up the dough for an HBO subscription. According to Entertainment Weekly, that's when the licensing agreement between the channel and the streaming service ends, and all those shows will head back to the HBO mothership. 
Richard Plepler, HBO's chairman-CEO, told investors about the plans to end the output deal with Amazon Prime on Wednesday. 
"I don't think you'll see us extend or expand our library programming on Amazon beyond the end of next year," Plepler said, Variety reports  
Back in 2015, HBO launched its own online streaming service called HBO NOW, and in February it surpassed 2 million subscribers. Amazon's streaming service, however, had more than 76.2 million users in 2016. It's clear HBO's got some catching up to do if it wants to be a real streaming contender, hence the move to recollect its syndicated shows.
But before viewers breath a sigh of relief, thinking they have a year to continue enjoying HBO programming on Amazon, they should be aware shows could start disappearing much sooner than that. According to Vulture, Amazon recently announced a bunch of HBO shows would be leaving the streaming service in May. When Vulture got in touch with an Amazon spokesperson, however, they back-peddled, and said those shows wouldn't be leaving imminently, however the publication reported "they won't be sticking around long."
Here are just some of the HBO shows that will eventually be ousted from the Amazon streaming line up:
1. The Sopranos
2. Deadwood
3. Six Feet Under
4. Flight of the Concords
5. True Blood
6. The Comeback
7. Eastbound and Down
8. Enlightened
9. Board to Death
10. Girls (seasons one and two)
11. Veep (seasons one and two)
12. The Wire
What's more, any series with seasons that concluded over three years ago that might have originally gone into the Amazon library will now remain with HBO. 
While some shows could leave Amazon as early as May, it is currently unclear when the entire HBO library will be removed. Based on what Amazon's spokesperson told Vulture, however, viewers don't have much time left to enjoy all that sweet original programming. 
Amazon binge-a-thon anyone?
Mic has ongoing HBO coverage. Follow our main HBO page here.