Here's how Congress wants to change the way we pay our workers overtime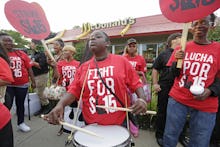 House Republicans voted on Tuesday to change how workers are paid overtime in a measure critics say is a "wolf in sheep's clothing."
The Working Families Flexibility Act — which has the support of President Donald Trump's administration — would allow employers to give workers paid time off rather than overtime pay for logging extra hours, according to CNN.
While Republicans lauded the legislation as a way to give more flexibility to employees, Democrats and labor groups slammed it, arguing that because the measure gives employers the final say on when the time off is used, they can essentially delay workers' overtime compensation.
"Like many pleasant-sounding Republican initiatives, this law is nothing more than a wolf in sheep's clothing, designed to enrich corporations and their executives at the expense of working people," Laura Barrett, executive director of the nonprofit Interfaith Worker Justice, said in a statement. 
"Despite the Orwellian language used by this law's Republican supporters, this bill has nothing to do with helping to make jobs more flexible and everything to do with making it just a little easier for corporations and their executives to steal the hard-earned wages of working people," Barrett said.
The bill passed the House with no Democratic support. Six Republicans also voted against the measure, which now heads to the Senate, where it will need the support of eight Democrats to pass without being filibustered. 
Sen. Elizabeth Warren, a Democrat who has challenged the Trump administration on labor rights, blasted the Republican bill as a "disgrace."
Trump is expected to sign the bill if it passes the Senate.