Freddie Prinze Jr. reveals he was almost cast in 'Scream' — until Wes Craven put the kibosh on it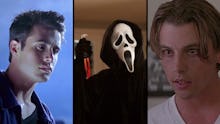 In 2014, rumors began bubbling of a reboot of the 1996 slasher flick I Know What You Did Last Summer — a film that turned all four of its respective leads — Jennifer Love Hewitt, Sarah Michelle Gellar, Freddie Prinze Jr. and Ryan Phillippe — into household names.
In summer 2016, director Mike Flanagan (Absentia, Oculus) confirmed the film was still in the works, telling Shockwave: "We wrote it for Sony. We turned in the script and they loved it. It's going fine. They're going to make it."
So will FPJ reprise his role as Ray Bronson? "It wouldn't be with me if they did that," he revealed in a new expansive Mic profile. "If you liked Ray whatever-his-last-name-was in I Know What You Did Last Summer, I'm sorry, but I promise whatever guy they'd get to replace me would be awesome."
Prinze also revealed that Scream, the horror film heavily credited with reinventing the slasher genre, almost had a different actor under the Ghostface mask: himself.
"I didn't get Scream," he revealed. "[Screenwriter] Kevin Williamson really wanted me for Scream but [director] Wes [Craven] didn't — he wanted Skeet [Ulrich]." 
As horror buffs know, Ulrich ultimately landed the role.
Read Prinze's full interview with Mic here.