President Donald Trump will withdraw US from Paris climate agreement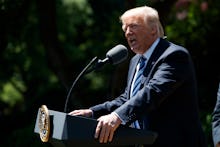 President Donald Trump is expected to pull the United States out of the historic Paris climate agreement on Wednesday, according to a report by Axios that was later confirmed by CBS News.
According to the reports, specific logistics on how the U.S. plans to withdraw from the landmark climate deal are still being arranged by a team that includes Environmental Protection Agency administrator Scott Pruitt.
The Paris agreement, in which the U.S. pledged to lower its greenhouse gas emissions 26% by 2025, was signed by 195 parties in December 2015 and ultimately ratified by 147 parties. The pact is the world's largest effort to reverse the damaging effects of man-made climate change.
After the G-7 summit in Italy last week, Trump announced that his decision on the U.S.'s involvement in the agreement was forthcoming.
On Wednesday morning, the President once again tweeted about the forthcoming announcement.
Ned Price, former Senior Director of the National Security Council and Special Assistant to President Obama, excoriated the Trump White House in an email to Mic.
"The Trump administration appears set to buck the wishes of the American people, titans of industry, the scientific community, and all of our closest partners by leaving the Paris accord," Price said, "By abandoning the accord, the United States would join the ranks of Syria and Nicaragua and delivers to all of our international partners—as well as our adversaries—another reason to doubt American credibility going forward.
"This decision would also destroy once and for all the fiction 'moderate voices' within the White House hold significant sway over the President. It would be a distinct signal that the fringe cabal that plays to the President's basest instincts has his ear and the influence to guide his decision-making with no regard for the wishes, security, and prosperity of the American people," Price concluded.
Anthony Smith contributed additional reporting to this story.
May 31, 2017, 10:43 a.m. Eastern: This story has been updated.