3 key takeaways from James Comey's Senate Judiciary Committee hearing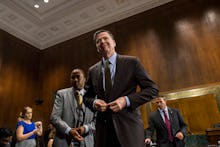 FBI director James Comey appeared before the Senate Judiciary Committee on Wednesday for his first public remarks since he revealed the bureau was investigating the alleged ties between President Donald Trump's campaign and Russia.
Here are three key takeaways from the hearing:
Republicans had one thing on their minds: Weiner
Republicans seemed intent on pivoting the conversation away from Russia, instead choosing to zero in on disgraced former Rep. Anthony Weiner.
Republican senators peppered Comey about Weiner's computer and why his wife, Hillary Clinton aide Huma Abedin, had been emailing him classified information. 
Comey repeatedly gave the same answer, which was that Abedin often forwarded a large number of emails — only a few of which included classified information — to her husband so he could print them out for her. Comey also stressed he didn't find sufficient criminal intent to prosecute Abedin for what was essentially an accidental breach of protocol, according to Business Insider, but that answer hardly mollified Republicans.
"I think it's important to remind folks that you were not the one who decided to do business this way, and keep State Department emails on a computer of someone suspected of child pornography," Sen. Cornyn (R-Texas) told Comey, referring to a shirtless picture Weiner took next to his infant son.
Comey has no regrets, but he does have some mild gastrointestinal distress
When pressed on whether he regretted his decision to announce the reopening of the investigation into Clinton's emails, Comey replied, "It makes me mildly nauseous that we would have had an impact on the election." 
Ultimately, Comey said he felt he made the right decision. "I wouldn't have done anything differently." he concluded. "I don't have any regrets.''
Comey also suggested he did not approve the of Justice Department's handling of the case, saying he had to take steps to show the "system is not rigged" after then-Attorney General Loretta Lynch's private conversation with former President Bill Clinton during the campaign.
Comey is staying mum on the Trump-Russia investigation
Though Republican senators did most of the work shifting the focus away from Trump to the Clinton email scandal, Comey himself wasn't exactly eager to talk about the Trump-Russia investigation. 
In one notable exchange, Sen. Al Franken (D-Minn.) pressed Comey about whether he felt there was information in Trump's tax returns that might be germane to the investigation. Comey frequently refused to answer.
"I hope people don't over-interpret my answers, but I don't want to start talking about anything — what we're looking at and how," Comey responded.