Here's what we know about the future of the 'Star Wars' franchise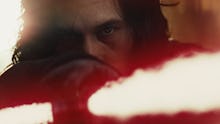 At the annual Star Wars Celebration that took place in Orlando, Florida, in April, The Last Jedi trailer was released to delighted die-hard fans of the franchise. Apparently, several cast members who were onstage at the time for a panel — including Daisy Ridley, John Boyega and Mark Hamill — had not seen it either, so it was an exciting moment for them as well. 
But what's the next frontier for Star Wars, a franchise that's been captivating fans since 1977? Will Carrie Fisher be present in both The Last Jedi and the unnamed Star Wars: Episode IX? What is this Han Solo movie, and is it really happening?
Here's what's currently known about Star Wars' future.
1. The Last Jedi will hit theaters this Christmas.
The teaser notes Christmas as the release date for this much-anticipated installment in the Star Wars trilogy. It has also been confirmed that the late Carrie Fisher will be making an appearance in it. As far as new casting goes, it's rumored that Benicio del Toro will assume the villainous role of Thrawn, who originated in the spin-off Star Wars Rebels. 
2. Disney is moving ahead with the Han Solo movie.
Currently set to premiere on May 25, 2018, the untitled Han Solo movie has some seriously awesome creative players attached to it. Phil Lord and Christopher Miller, directors of 21 Jump Street and The Lego Movie, will be at its helm, and Beautiful Creatures actor Alden Ehrenreich will star as Han Solo. Other actors to note are Donald Glover as Lando Calrissian and Woody Harrelson as Beckett.
3. Star Wars IX will premiere May 24, 2019.
Fans have patiently waited for this chapter of the Star Wars franchise, but little is known about it aside from the creative team. The director of Jurassic World, Colin Trevorrow, is set to helm it, and, while they're all still rumored, Mark Hamill, John Boyega and Lupita Nyong'o are listed to star. 
4. There might be a Boba Fett movie in fans' futures.
Absolutely nothing has been confirmed by the powers that be, but it was apparently being put in place back in 2015, and according to iO9, there was a trailer that could've dropped at the Star Wars Celebration in April of that year. Unfortunately, the project got tabled because the director at the time, Josh Trank, was removed from the project for an unknown reason. Kathleen Kennedy, however, told Entertainment Weekly it might be back on the table along with other spin-off projects now that The Last Jedi has wrapped shooting.
Mic has ongoing Star Wars coverage. Please follow our main Star Wars hub here.