There's a big Google Docs email scam going around. Here's what to do if you received it.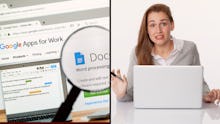 Many people — namely individuals in media — are reporting that they've received emails that appear to be sent from someone they know, addressed to "hhhhhhhhhhhhhhhh@mailinator.com" with a link to a Google Doc and the recipients blocked, according to Motherboard. If you received a similar suspicious email, someone you know has been been phished, my friend!
A phishing attack is when someone online tries to dupe you into sharing your personal information with them, usually under the guise of someone you know or trust. If you receive an email like the aforementioned (or any suspicious email or text ever), do not click the link. I repeat: Do not click the link. Before deleting the message, you should first report the phishing scam to Google, as EFF's Director of Cybersecurity Eva Galperin tweeted. You should also check authorized apps in your email account, as well as enable two-factor authentication, as ACLU technology fellow Leigh Honeywell tweeted.
In the future, if you are unsure of the legitimacy of a recipient, you can first verify with the sender that it was in fact them who sent it to you. Also, per Radware security researcher Daniel Smith's suggestions, there are a number of tools you can use to inspect the content, such as a URL checker, a redirection checker and a URL unshortener.
Mic IT Manager Jim Norris said that if you clicked the link, you can go here and remove "Google Docs" to get rid of the malicious app — and for good measure, reset your password.