Despite significant buying power, plus-size women remain a rarity in print campaigns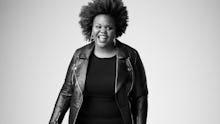 When the Fashion Spot revealed their diversity report for the Fall 2017 season back in February, things were looking refreshingly good. 
Models of color appeared in every show at New York Fashion Week. Six out of the 10 most-booked models were models of color. And plus-size models had their biggest season on record, with 26 plus-size model appearances (up from just 4 the previous year).
And while that momentum has continued for models of color, according to the latest diversity report released by the Fashion Spot on Thursday morning — this one focusing on print advertising campaigns — the reality for plus-size models is far bleaker. 
In fact, out of the 444 model appearances they examined, plus-size women were only cast 10 times — down from 14 one year earlier. That's a mere 2.3%.
That's not all. Eight out of those 10 castings (three of which featured Ashley Graham) were for exclusively plus-size labels, meaning that out of 444 model appearances, only two plus-size models appeared in ads for mass-market non-exclusively plus-size labels (those ads were for Calvin Klein underwear and Urban Outfitters' "Class of 2017" campaign).
But to call it a decrease in plus-size models this season is somewhat misleading. As the Fashion Spot's Jennifer Davidson explained in an interview: "Last season, all but one of the campaigns featuring plus models were for plus-size clothing brands. This season, all but two of the campaigns were for plus-size clothing brands. So, if you think of it in terms of true diversity, this season was slightly better with two non-plus brands vs. one for last season."
That said, Davidson admitted it's a dismal showing. "At the Fall 2017 shows in February, we saw plus-size models mix with straight-size models at shows like H&M, Dolce & Gabbana, J.Crew, Christian Siriano and Michael Kors. Unfortunately, the same inclusivity didn't translate to the Spring 2016 campaigns."
But not everyone is convinced. "Those numbers seem ridiculously small," plus-size model Clémentine Desseaux said in an interview, citing brands like Gap, Dressbarn, Fabletics, Aerie and more. "Let's keep it positive," she noted. "I think the ones that were cast made some great noise and impact toward clients and press. I believe more and more brands are actually taking the step of casting 'real people' and women of different shapes or colors."
Still, she admitted that 2% is "ridiculous" — especially when 67% of women are a size 14 or larger. And those women have proven they are willing to spend. According to Bloomberg Businessweek, 65% of female shoppers are buying plus sizes. 
So what gives? "High fashion is really where it lacks and where the efforts need to be at," Desseaux said. Perhaps there's hope for the fall campaigns? Only time will tell.