Meet the organization aspiring to be the 'Peace Corps' of the fashion industry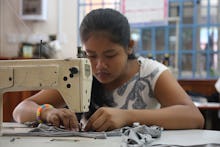 If you went to the Women's March this past January, then you must, by default, also care about the conscious fashion movement. Why? Because if you believe in gender equality, then you should also be thinking about the thousands of women who are marginalized and disempowered while making our clothes.
Remake, a non-profit organization based in San Francisco, is helping consumers understand why ethical fashion is in fact, a feminist issue by building a conscious consumer movement that bridges style and ethics together. 
By sharing the stories of the women behind our clothes, Remake encourages consumers, fashion professionals and fashion students to think about the human hands that produce the clothes we wear.
"My calling to this work stems from the fact that I am a Pakistani-American woman of color and feel deeply connected to the women who make our clothes," Ayesha Barenblat, founder of Remake, said in an interview. "She could be me. It's the luck of the draw that I got to come to the U.S. for college, and build a life here. Remake is my way of building bridges from my past and my present."
In addition to raising consciousness among consumers, Remake aspires to help seed a future of designers who are making slow, beautiful fashion that is conscious of our world. "In this way, we are a sort of 'Peace Corps' for the fashion industry," Barenblat said.
In a 2015 interview, Liana Foxvog of the International Labor Rights Forum said, "Factory owners prefer to hire female workers because they believe that not only are they better suited for sewing with their smaller hands, but that they're also more docile and, therefore, willing to work longer hours for less pay, without organizing or trying to change their conditions."
Barenblat, who was raised in Pakistan within a family who runs garment factories, has witnessed firsthand the damage fast fashion wages on women of color around the world, many of them women between the ages of 18-24.
"[In Western countries], millennial designers are graduating from fashion schools, and simultaneously, on the other side of the world, millennial women are entering the garment industry," Barenblat said. "I saw a connection in the fact that globally, millennial women are starting their fashion careers from opposite sides of the supply chain."
It was this observation that inspired Barenblat to create an immersion trip to Cambodia for fashion students, exposing them to the reality of the supply chain.
In partnership with Levi's and Parsons School of Design, Barenblat and her team designed an itinerary that would allow students to get a full spectrum of the everyday lives of garment workers. The trip was documented in a short film called Made in Cambodia, which Remake released this Spring.
The film, directed by Emmy-award winning Pakistani filmmaker Asad Faruqi, follows three Parsons students on their journey to Cambodia to experience the stories of garment workers firsthand. Faruqi, who was raised in Karachi, Pakistan, shares the same hometown as Barenblat. The two bonded over their mutual upbringing and understanding that the garment industry is a human rights issue, most especially evident in the country they both grew up in.
"Clearly this is a human rights issue stemming from the unequal distribution of wealth," Faruqi said. "Most people don't understand the true cost of fast fashion. The garment workers shouldn't be doing work that pushes them further down into poverty. [Their employment] should impact their life for the better."
After filming the project, Faruqi, who admits to not having a strong connection with fashion, shared that he returned with a different perspective towards the relevance of the industry in promoting human rights. "After working with Remake, it's been harder for me to look at fashion in the same way," he said. "I'm being more careful. I hope we can make more films, and people can continue questioning the fashion industry. It's only when people begin to question, that things begin to change."
The film showed that not only Faruqi came back changed. The Parsons students who went on the trip also came back with a whole new approach to their careers. 
One of the students, Anh Le, said that while it was initially her dream to launch a fashion line, she returned with the desire to be a part of the solution to create more humane supply chains. Le, who comes from a Vietnamese refugee family, said that like Barenblat, she is personally connected to this issue as some of her family members in Vietnam still work in the garment industry.
Remake's goal is to instill this social consciousness among designers like Anh, who can go on to be the next social impact mastermind behind brands like ASOS. A future of fashion that's truly feminist from start to finish? Now thats a possibility worth creating.