Alabama signs law allowing adoption agencies to refuse gay couples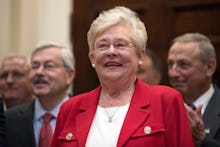 Republican Alabama Gov. Kay Ivey signed a bill allowing adoption agencies throughout the state to reject gay couples looking to adopt a child, and, more generally, reject any applying parents who conflict with their stated religious beliefs, AL.com reported Wednesday.
The law disallows the state from "refusing to license or renew the license" of any adoption agencies which cite religious beliefs when refusing child placements. While it does not actually prevent gay couples or other LGBTQ individuals from adopting a child in the state, it does protect faith-based groups from retaliation for discriminating against them when choosing prospecting parents.
"The elected legislature of this state overwhelmingly approved House Bill 24," Ivey said, according to AL.com. "Having served as president of the Senate for more than six years, I appreciate the work of the legislature, and I agree with it on the importance of protecting religious liberty in Alabama."
"I ultimately signed House Bill 24 because it ensures hundreds of children can continue to find 'forever homes' through religiously-affiliated adoption agencies," she added. "This bill is not about discrimination, but instead protects the ability of religious agencies to place vulnerable children in a permanent home."
Ivey is the replacement for former Gov. Robert Bentley, who resigned amid looming impeachment hearings over alleged abuse of campaign finances and violating state ethics laws.
While advocates said the intent of the bill was merely to shield religious groups which operate adoption services from shutting down, the bills calls to mind other "religious freedom" bills critics have denounced as thinly-veiled attempts to legalize anti-LGBTQ discrimination.
"This bill obviously came about because same-sex marriage was approved," state Rep. Patricia Todd said, per AL.com. "It's based in a stereotype, and it's wrong. And we shouldn't discriminate and I will always fight that."
"We are deeply disappointed that the legislature and the governor took on this unnecessary, discriminatory bill instead of focusing on how to improve the lives of all Alabamians, no matter who they are or whom they love," Human Rights Campaign Alabama state director Eva Kendrick told the Associated Press.