'Madden 18' Player Ratings: Late-round picks who should be dangerous in new game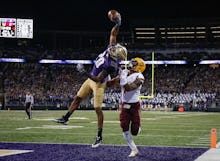 New Madden Ultimate Team cards for early draft picks like the Cleveland Browns' Myles Garrett and the Jacksonville Jaguars' Leonard Fournette have given us a preview of what to expect from the rookie ratings when Madden 18 releases. 
The players selected in the second round didn't get MUT cards, but there are a few who should have impressive ratings.
Madden 18 player ratings: Kevin King
There's a question as to whether Kevin King's football speed will match his 40-yard dash time at the NFL Combine (4.43). Because it's difficult to quantify football speed, rating makers at EA Sports will almost certainly have to use King's combine performance as a reference for his speed and acceleration numbers.
King is also 6'3" with a 39.5" vertical. That combination of height, leaping ability and speed could make him a pretty tough cornerback to attack in Madden 17 — at least in the initial ratings.
Once he plays, the ratings could drop in subsequent updates, but out of the box, King figures to be a pretty highly rated rookie.
Madden 18 player ratings: Tarik Cohen
If your nickname is the "Human Joystick," you better be good in Madden. Tarik Cohen is just 5'6" 179 pounds, but with the ball in his hands, he's about as dynamic as they come.
He ran a 4.42 40-yard dash has a 31.5" vertical and he can also do this:
We're not exactly sure how many ratings should be affected by these insane acts of coordination and raw athleticism, but controlling Cohen in Madden 18 should be fun.
Madden 18 player ratings: Adam Shaheen
Another rookie with a cool nickname is Adam Shaheen. He is sometimes referred to as Baby Gronk after New England Patriots tight end extraordinaire Rob Gronkowski.
At 6'6" 278 pounds, the former basketball player comes from tiny Ashland University, but he ran a 4.79 40-yard dash and a 32.5" vertical. He also completed 24 reps of 225 pounds.
The big man can move and he's a load to bring down in the open field. The Chicago Bears and Madden 18 gamers may have a new weapon.
More sports gaming news and updates
Love sports games? Check out more content from Mic, including tips for leveling up your NBA 2K17 MyPlayer, playing quarterback in Madden 17, our review of MLB The Show 17 and the classic Nintendo sports games we want to see on the Switch.