Over 8,000 Flint residents could lose their homes if they don't pay their water bills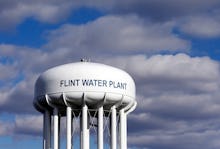 The Flint water crisis isn't over: Residents of the Michigan city are still cautioned against drinking water from their taps without filtering it. According to NBC25 News, however, over 8,000 people could lose their homes if they don't pay their water bills in coming weeks.
"I got scared, for probably the first time since this all started this actually scared me," Melissa Mays, a Flint mother and water activist, told NBC25. On Friday, she was notified that she had until May 19 to pay an outstanding $900 water bill, or the government would place a tax lien — a federal claim — on her home. 
"While I understand this is the way the law reads, we are in a totally different situation," Mays said.
One might expect the water crisis would present a legal exception: In 2014, municipal officials looking to cut costs switched the city's water source to the Flint River. Its waters proved corrosive enough to break down the lead pipes it traveled through, leaching poison into the city's tap water. A recent report indicated that the decision to switch water sources was rooted in "deeply embedded institutional, systemic and historical racism" that has yet to be adequately addressed, CNN reported. 
Three years later, Flint's approximately 100,000 residents have been given the green light to drink filtered water from their taps. But the pipes remain in the ground — although federal funds are earmarked for their removal — and people remain distrustful of the water, filtered or not. Nonetheless, residents resumed full responsibility for their water bills in early March. Before then, state credits had covered much of the cost. 
According to NBC25, the city recently notified many Flint residents that it would be shutting off their water if they didn't pay for water, a move that generated about $3 million last month. Officials hope the threat of liens could net as much as $6 million in revenue.
Congressman Dan Kildee blasted news of potential Flint foreclosures in a statement. 
"Flint families should not have to pay for water that they still cannot drink," Kildee said, "and they certainly should not lose their homes over this ongoing water crisis that was caused by the callous decisions of state government."