Mike Pence is pretty pleased with this stacked "pro-life" White House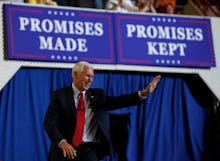 Deeply conservative Christian and Vice President of the United States Mike Pence is very pleased with the way President Donald Trump's White House is shaping up. Speaking at a gala for anti-abortion rights group Susan B. Anthony List on Wednesday night, Pence praised how the president stacked his administration with abortion rights opponents.
"Life is winning in America," Pence said, according to HuffPost. "President Trump has been keeping his promises to stand for life. He's literally filled this White House and agencies with pro-life leaders."
"For the first time in a long time, America has an administration that's filled top to bottom with people who stand without apology for life," he added.
Whether or not the White House is filled "with people who stand without apology for life" is a matter of opinion, or perhaps a question of "whose life?" The Trump administration has architected a number of policies that threaten immigrants, could further endanger domestic violence survivors, screw over low-income mothers and would deteriorate health care access for older people, poor communities and people of color. It's also staffed by apparent racists, anti-Semites, misogynists and, yes, a number of people who adamantly oppose abortion access.
Pence, whose foremost professional goals include defunding Planned Parenthood, outlined his "A-team" of anti-abortion rights officials. According to HuffPost, it includes top Trump aide Kellyanne Conway, United Nations Ambassador Nikki Haley, Housing Secretary Ben Carson, Energy Secretary Rick Perry, Health and Human Services Secretary Tom Price and the two actual anti-abortion rights activists who have reportedly been appointed to Price's department in the past seven days: Charmaine Yoest and Teresa Manning, neither of whom believe in contraception.
A gleeful Pence then went on to outline many of the blows Trump struck against women's rights in his first 100 days. "I like to say, in this administration, we're in the promise-keeping business," he said, according to HuffPost. 
If Pence is happy, that's a pretty clear signal that women should be worried.