Prince Philip to retire from handling royal engagements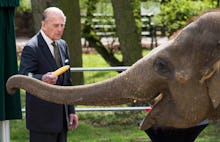 Prince Philip, the 95-year-old duke of Edinburgh, will retire from his public duties in the fall, Buckingham Palace announced Thursday. The role of Queen Elizabeth II, the prince's wife of 69 years, will remain unchanged, according to the statement.
The role change will mean that Philip — who was the fifth busiest member of the royal family and fulfilled 110 days' worth of engagements in 2016, according to the BBC — will take a backseat to the queen, who "will continue to carry out a full program of official engagements," according to the statement.
While Philip will continue to support the more than 780 organizations he serves as president or member of, he "will no longer play an active role by attending engagements," Buckingham Palace said.
A palace spokesman added that the duke "may still choose to attend certain public events from time to time."
Although BBC royal correspondent Nicholas Witchell reported there were considerations behind the rollback of responsibilities other than the duke's advanced age, concerns about the health of the duke and queen have abounded in recent months. 
In December, the queen was forced to cancel public appearances and missed Christmas mass due to a lingering cold, and the prince also fell ill the same month, the New York Times reported.
In a statement to the BBC, Prime Minister Theresa May extended her "deepest gratitude and good wishes" to the duke following his announcement.
"From his steadfast support for Her Majesty the Queen to his inspirational Duke of Edinburgh Awards and his patronage of hundreds of charities and good causes, his contribution to our United Kingdom, the Commonwealth and the wider world will be of huge benefit to us all for years to come," May said.