Will Oliver and Felicity get back together on 'Arrow'?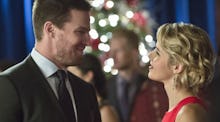 Felicity and Oliver have not been a couple since season four of Arrow, after the former called off their engagement. But on Wednesday night's episode — during the flashbacks — we learn that the two shared one more passionate night just 11 months ago. Still, that went nowhere, because Felicity felt that Oliver did not trust her. Of course, she then meets Detective Malone, and the rest, as they say, is history. 
The two being trapped in the bunker in the most recent episode, however, brought old feelings, and maybe even new ones, to the forefront. During their fight for survival, it seems they finally had a chance to hash out some of their issues. The most important one tackled is why Oliver appears not to place the same trust in Felicity that she has in him. 
Through some very emotional scenes — including one where it looked like Oliver was on the brink of death — the former couple seemingly exuded nothing but love for each other. And now that they have escaped the bunker, and Oliver has let Felicity in on his darkest secret — that he may have used the hood as an excuse to kill — the question will be whether "Olicity" will once again be a thing. 
This is pure conjecture, but it does look like it may be moving in that direction. But it also does not appear that it will happen right away. And there are several reasons why: Felicity is still grieving after Billy's murder, and Oliver has some unfinished business with Susan Williams, who hasn't been seen in a few episodes now. 
Then there is the big one:
There is one more major complication — again just speculation — and that will likely come from Black Siren, aka Laurel Lance of Earth-2. It was announced more than a month ago that Black Siren would be returning for the season five finale, before joining Arrow as a series regular in season six. And while Black Siren is a villain, so far, Oliver has already expressed an interest in trying to reform her. 
Furthermore, if Black Siren is to be believed, she only went down a path of villainy on Earth-2 after her own Oliver Queen, whom she loved, was killed. It thus certainly seems possible that when she returns to the series she will be fighting for Oliver's affection. This makes sense, since in almost every comic book incarnation of the Green Arrow, his most enduring love interest is Black Canary, aka Dinah Laurel Lance. 
Of course, it is not certain whether Black Siren's role in season six will be as friend or foe to Team Arrow. But the smart money is on some sort of a reformed Black Siren — unless she is set to be the season's big bad. 
Complications aside, all the "Olicity" fans out there can now at least hold out hope for Oliver and Felicity. With their issues hashed out, the only path is forward. 
Mic has ongoing coverage of Arrow. Please follow our main Arrow hub here.