Ivanka Trump uses Toni Morrison quote to warn women not to be slaves to their work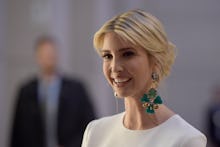 Ivanka Trump's new book, Women Who Work, was published this week, and at least one passage is a certified disaster of misused literary metaphor. 
Referencing a segment from Toni Morrison's 1987 novel Beloved — a book about an escaped slave who was forced to kill one of her babies — Trump uses one of Morrison's quotes about slavery to warn women not to be "slaves" to their busy schedules: "returning calls, attending meetings [and] answering e-mails."
Here's the Beloved quote:
"Freeing yourself was one thing; claiming ownership of that freed self was another." The line appears on page 112 of Trump's book, in flowery faux-handwriting and with the hashtag #ITWISEWORDS.
And here's the corresponding passage from page 114, from Trump's chapter on "working smarter":
"Are you a slave to your time or the master of it? Despite your best intentions, it's easy to be reactive and get caught up in returning calls, attending meetings, answering emails and managing your team only to realize that it's 6:30 p.m. — and you haven't done a single thing that's of high value or moves you toward accomplishing larger strategic goals all day."
In Beloved, the quote about freeing oneself appears when Sethe, the novel's protagonist, reflects on how much of her life she's spent being a slave. In Trump's book, the section gets repurposed as a metaphor for the U.S. president's wealthy daughter balancing her phone calls and emails with her "larger strategic goals."
Ironically, Trump's lifestyle and clothing brand is made possible partly by exploitative labor. A company that manufactures Trump's clothing line — G-III Apparel Group — uses a factory in China that enforces a brutal 60-hour work week on employees who earn a total weekly paycheck of roughly $62 USD, the Washington Post reported in April.
In March, Trump announced she would officially join President Donald Trump's administration as an unpaid adviser. Morrison declined to comment through her literary agent.