66% of Canada's energy now comes from renewable sources. Things are different in the US.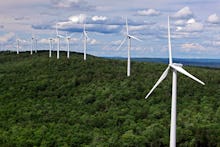 About two-thirds of Canada's electricity now comes from renewable sources, like hydropower, wind power and solar power, the Canadian Press reported, citing a new report released Tuesday by Canada's National Energy Board. 
Things are dramatically different on the U.S. side of the border, where renewable energy accounted for just 11% of energy produced domestically in the U.S. in 2015, according to the U.S. Energy Information Administration. 
Chris Barrington-Leigh, a professor at McGill University's School of Environment, told the Canadian Press that 66% renewable is "a good start" but that the goal is to eventually reach 100%.
Hydroelectricity makes up the bulk of Canada's renewable energy, 60% of all electricity produced in the country, the Canadian Press reported. Only about 10% of Canada's electricity comes from coal and about 9% comes from natural gas.
In the U.S., however, President Donald Trump has vowed to revitalize the shrinking coal industry, much to the dismay of climate advocates. In March, he signed an executive order aimed at undoing his predecessor's work that was intended promote to clean energy.
The Trump administration is also rumored to be planning to pull out of the historic Paris Agreement on climate change within the next few weeks, as HuffPost reported on Wednesday.
The agreement involved 195 countries committing to cut greenhouse emissions in order to help curb the devastating effects of climate change. The U.S. pulling out of the agreement would represent a significant loss for the Paris Agreement, as the U.S. and China are the world's two biggest polluters.
Trump's actions so far on the climate, and his apparent commitment to retreating from renewable energy, led former former Environmental Protection Agency administrator Gina McCarthy to say in a statement in March that the Trump administration wants "us to travel back to when smokestacks damaged our health and polluted our air, instead of taking every opportunity to support clean jobs of the future," the Associated Press reported at the time.
"This is not just dangerous; it's embarrassing to us and our businesses on a global scale to be dismissing opportunities for new technologies, economic growth and U.S. leadership," McCarthy said.