Data shows that after 100 days of Trump, the resistance isn't slowing down. It's growing.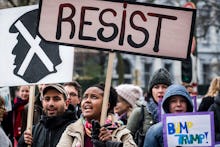 They're not going anywhere.
Now, more than 100 days into Donald Trump's presidency, the resistance appears to be gaining strength, not losing it, according to a scientist who studies protests. 
"Many Americans no longer feel like their concerns are being heard just by voting," sociologist Dana Fisher told the Washington Post. 
From the Women's March to the People's Climate March, demonstrators are continuing to show up in huge numbers, suggesting that the resistance hasn't suffered from so-called "protest fatigue" yet.
"What I think this is showing is that there are people who are getting involved and staying involved and coming out even if it's every weekend," Fisher said. "There's only so many weekends in a row you want to march, but we have not hit that exhaustion yet."
A big reason for that, Fisher told the Post, appears to be Trump. 
At the March for Science on April 22, an overwhelming 98% of protesters told Fisher that Trump's election had motivated them to participate — at the Climate March a week later, that number was 97%. Fisher's research shows those protesters are "much more intersectional," turning up not just for one issue, but — as some protesters told her — "because of all of them."
"The resistance has become the umbrella for a suite of issues that used to have their own individual movements," Fisher told the Post. "They are not just coming out for the one issue that is their big issue. They have a much more intersectional sense of an identity as an activist."
Studies have indicated that Americans — particularly millennials — have been more politically engaged since Trump's election. To Fisher, that suggests a shift in how Americans are participating in democracy, in that they're staying civically engaged and not just "going back to watching TV."
"Across the board, the marches are bringing out not just new people but people who are not members of those coalitions," Fisher said. "People who are really new to participating in anything. This is a really interesting time where democracy has gotten a shot in the arm, and I suppose we have President Trump to thank for that."