FIBA finally allows Muslims and Sikhs to wear hijabs and turbans on the court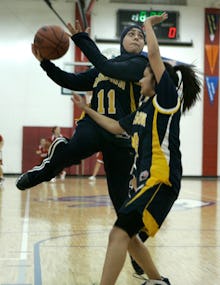 On Thursday, the International Basketball Federation announced changes to its headgear policy that would allow Muslim and Sikh players to wear hijabs or turbans on the court. The new policy overturns a ban on religious head coverings.
FIBA's governing body convened in Hong Kong for the federation's midterm congress and agreed to allow approved head coverings that would minimize risk for injuries and coincide with team colors. The new policy will take effect in October, according to CNN.
"The new rule comes as a result of the fact that traditional dress codes in some countries — which called for the head and/or entire body being covered —were incompatible with FIBA's previous headgear rule," a FIBA statement read.
While FIBA has granted exemptions to players since September 2014, the federation's hijab ban has been met with opposition and protest. In August 2016, Muslim civil rights group Council of American Islamic Relations and more than 50 other advocacy groups wrote an open letter addressed to FIBA urging it to overturn the head covering ban. 
Several Change.org petitions pressing FIBA to allow head coverings also gained momentum and received more than 17,000 signatures. In September 2014, the Qatari women's basketball team withdrew from the Asian Games after being denied exemption to wear the hijab on the court. The lift of the hijab ban was largely in part to FIBA board members realizing the policy was incompatible with the traditional or religious customs in some countries.
FIBA's policy change comes about three years after FIFA, the international governing body for soccer, lifted its head coverings ban.