Navigating Trump's America: The Republican health care plan takes us back in time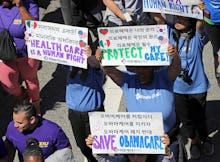 The health care bill House Republicans hope to pass Thursday is a step backward toward the inconsistent "Wild West" America knew before the Affordable Care Act. If President Donald Trump wants to "make America great again," let's quickly review what America was like before the current system.
The country had 50 different plans for handling health insurance. Some states, like Massachusetts, already offered a version of the ACA exchanges and mandated coverage of pre-existing conditions. Other states let insurance companies charge women more than men, did not require coverage for millions of sick Americans and about 1 in 6 Americans were uninsured. A 2008 poll showed 8 in 10 of the people surveyed wanted health care reform.
Perhaps the most important point for voters who hate the ACA: Health insurance premiums rose faster between 2001 and 2011 than they did between 2011 and 2016. A Kaiser Family Foundation study shows premiums rose 63% from 2001 to 2006 and 31% from 2006 to 2011, compared to 20% since 2011. That doesn't mean health insurance isn't still too expensive for some people. But it does means Obamacare helped to slow price increases.
So what did the country gain with Obamacare? Slower increase in premiums; coverage of pre-existing conditions; a requirement women be charged no more than men; people of the same age being charged the same; required coverage of things like hospitalization and maternity care; subsidies to help cover costs on the individual market; and millions of new Americans with insurance through the expansion of Medicaid.
The American Health Care Act — Trumpcare — changes much of this. It will give less financial support to older and sick Americans, slashing annual support, in some cases, by thousands of dollars. Younger and healthier people may see cheaper insurance. It will roll back Medicaid expansion in some states. The latest version will let states opt out of mandating insurers cover people with pre-existing conditions. Those individuals could move to a high-risk pool — a group of sick Americans who need federal support to cover the cost of their health insurance.
To placate moderate Republicans, the federal government will allocate $8 billion to shoring up those pools this year. Whether that will work in the long term is very uncertain. We had those pools before the ACA and their track record is challenged. There are 52 million Americans with pre-existing conditions who would have been at risk of being uninsured before Obamacare.
The back and forth over pre-existing conditions may placate barely enough Republican conservatives and moderates to back the AHCA when it comes to a vote. But, at first glance, it appears House Republicans are committing political suicide. They are taking benefits away from some Americans and making them more expensive for other Americans. The GOP also plans to vote without a new Congressional Budget Office score — the score for the last try said 24 million people would lose insurance — and without public hearings on the bill. Few Republicans, let alone Americans, have even been able to read the text of the latest bill. That's a sharp departure from 2009, when Democrats were trying to push the ACA to a vote and then-Rep. Paul Ryan (R-Wis.) led a GOP push against it for exactly these reasons.
This may keep Republicans' promise to "repeal and replace" the ACA, but it's difficult to see how Republicans will be rewarded for this plan at the polls in 2018.
The takeaway: Republicans are beginning the slow march back to the early 2000s, when states decided separately how to regulate health insurance. That led to a system with skyrocketing costs, little help for sick Americans and millions of people without insurance. Do you really want to go back to that?
Don't forget, this still has to pass the Senate. That is far from certain. Some House Republicans have even openly indicated that they don't want to see their version of the bill get passed unchanged through the upper chamber; this is simply a way for them to placate conservative constituents by passing something.
Welcome to Mic's daily read on Donald Trump's America. Today is the day the House will vote on the American Health Care Act. If it passes, your life will change. Pay attention.
Highlights:
Today: Republicans are trying to ram through Trumpcare again.
More: Donald Trump will sign an executive order on "religious freedom" — something civil rights groups worry is code for legitimizing discrimination against LGBTQ Americans.
Even more: Jim Comey has a story to tell, but we need to hear more.
Trump's agenda today: Signing an executive order on Promoting Free Speech and Religious Liberty. Meeting with Catholic cardinals. Meeting with the prime minister of Australia.
What you need to know about today's executive order
The text of the order is not public yet, but the American Civil Liberties Union is already planning to sue. That is how concerned civil rights and LGBTQ rights groups are about the "religious liberty" order Trump plans to sign Thursday at the White House.
The order aims to make it easier for employers with religious objections to deny coverage of contraception. The language may also allow people to ignore protections for LGBTQ Americans if they believe the protection clashes with their religious beliefs.
James Comey's Senate testimony
At a hearing on the annual review of the FBI, senators stuck to party lines in their questioning of FBI Director James Comey. Democrats repeatedly questioned Comey's decision-making around telling Congress he was reopening the investigation into Hillary Clinton's emails. Republicans highlighted the fact those emails were found on a computer owned by former Congressman Anthony Weiner. Comey expressed no regret and said he looks forward to the whole story coming out. He also declined to answer a host of questions about investigations into Donald Trump and Russia. In other words: Comey still has much to reveal. Here are three takeaways from the hearing.
News and insight you cannot miss:
•  The Trump administration has appointed an official to the State Department who was accused of sexually assaulting five young men at The Citadel, the Military College of South Carolina. (Mic)
•  How activists in New Hampshire are crowdfunding a campaign to remove a misogynist state representative. (Mic)
•  Mosul by the numbers: The Iraqi city has been devastated by the war with the Islamic State group. Here's what it will take to rebuild. (Mic)
•  House Republicans passed a bill on Wednesday that will allow employers to give employees who work overtime paid time off instead of extra compensation. Republicans say that offers flexibility, but Democrats say the fact the bill allows employers to choose when that time off is used delays compensation for overtime work. (Mic)
•  Over 8,000 Flint residents could lose their homes if they don't pay their water bills. (Mic)