'Call of Duty: Black Ops 3' DLC 5 Release Date: New Zombies DLC rated by ESRB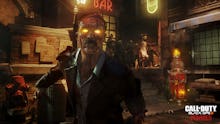 Call of Duty: Black Ops 3 may be last year's model (technically the model before last year's model), but the recent announcement of Call of Duty: WWII hasn't stopped the DLC train. According to a now-removed ESRB rating, the fifth DLC pack is coming soon.
"Zombies Chronicles" Black Ops III DLC rated by ESRB
It's been removed from the ESRB website, but the video game industry's North American ratings organization briefly posted a rating for Black Ops 3 DLC called "Zombies Chronicles." This was reported by VG247 and spotted on Reddit.
It got an M rating, as one would expect, but what's interesting is that the ESRB's website states DLC only needs to be submitted if its content exceeds the base product. The ESRB description for "Zombies Chronicles" isn't any different from the main game, so we don't have any information about what the DLC actually encompasses. 
The rating has been removed from the ESRB's website, but there is an archive version. Since it was ready to be rated, it's likely ready to be announced in the near future. 
Stay tuned.
More gaming news, updates, tips and tricks
Check out the latest from Mic, including our deep dive into how female Overwatch players are dealing with online harassment, an article about a fan movement advocating for more same-sex romance options in Mass Effect, a personal essay about JonTron written by a fellow Iranian-American and an article looking at cultural diversity in Overwatch.