Kumail Nanjiani of 'Silicon Valley' perfectly takes down Hollywood's portrayal of Muslims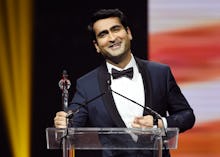 For Muslims in Hollywood, you're either playing the role of a terrorist — or the sidekick fighting the terrorists. Silicon Valley's Kumail Nanjiani wants to change that.
In June, Nanjiani is starring in a romantic comedy, a feat unheard of for Asian and Muslim actors in the industry. For Najiani, The Big Sick offers a look at Muslim American family life — which is often neglected or erased in Hollywood films. In an interview with the New York Times, the actor said the film came out of the frustration of always seeing Muslim characters defined by their own "Muslim-ness."
"You just don't see Muslims being matter-of-fact Muslim," Nanjiani said. "They're always defined by their Muslim-ness. We're either terrorists, or we're fighting terrorists. I remember seeing 'True Lies' and going, why are we always the bad guys?"
In The Big Sick, Nanjiani takes the lead role as a Pakistani-American stand-up comic and Uber driver. (In other words, he plays a slightly modified version of himself.) Nanjiani falls in love with Emily, a white therapist, whom he met when she heckled one of his shows. But their relationship is doomed from the start when the comic's family's expectation of him marrying a nice Pakistani woman pulls the couple apart.
The film couldn't have come at a better time. After the election of President Donald Trump, attitudes toward Muslims are shifting within the Hollywood elite. The big-wigs want to see a story journey of a Muslim immigrant falling in love in America. At least, that was the case for Judd Apatow, who is the lead producer for The Big Sick.
"When we started it, it was an important part of the movie, this experience of an immigrant in America," Apatow told NYT. "What it's turned into is an important representation that there are a billion people out there who are much closer to what we're like than we are led to believe."
For decades, Muslims have only dreamt of an accurate portrayal of their community on the big screen. It looks like those dreams are becoming a reality with actors Riz Ahmed and Mahershala Ali gaining star power in Hollywood by taking on roles unrelated to their Muslim identities. But Nanjiani, however, is taking a different approach in changing the movie industry's representation of Muslims: He's playing the role of Kumail Nanjiani.