Latest iPhone 8 concept shows a new feature called a 'function area'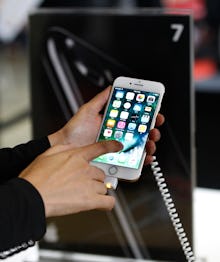 A new concept of the iPhone 8 — Apple's high-end device commemorating the 10-year anniversary of the iPhone — visualizes its rumored "function area." The premium smartphone is believed to have an OLED edge-to-edge display with the home button and fingerprint sensor built into the screen for the first time.
Earlier this year, 9to5Mac reported that the bezel-less 5.8-inch handset will have a function area featuring virtual buttons at the bottom of the iPhone's screen. KGI Securities analyst Ming-Chi Kuo predicted the function area would leave 5.15 inches for "usable display real estate," while the rest will be allocated for the function area.
In the mockup made by Benjamin Geskin for iDropNews, the Touch ID and a virtual home button are shown to be in the function area. Where Apple will place the Touch ID remains uncertain. While it was initially reported to be within the display, recent reports of delays cite challenges around perfecting the 3- D sensing technology. The function area could also, in theory, be similar to the Touch Bar in the newest line of MacBook Pros and allow for control of music, videos and apps.
As for the device's design, the mockup stays consistent with existing reports. Citing people "familiar with the matter," Bloomberg reported the new iPhone 8 is a "top-of-the-line handset with an overhauled look."  
Apple is supposedly experimenting with a new screen, curved glass and stainless-steel construction. In January, CNET reported the iPhone 8 may have a steel frame center that holds together an all-glass front and back.