Summer Movies 2017: 13 sequels and franchises you can't miss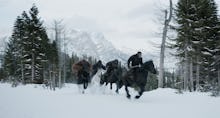 This summer movie season has something for everyone. 
Summer 2017 is stacked with options and, as expected, is loaded with sequels and new franchises looking to take off. From blockbuster superhero movies to revamped horror franchises to the latest Pirates of the Caribbean and Cars movies, there is a lot to choose from. 
Here are the 13 sequels and franchises you can't miss this summer:
All of the guardians are back for another round of saving the universe in Guardians of the Galaxy Vol. 2. Chris Pratt, Zoe Saldana, Vin Diesel, Bradley Cooper and the rest of the cast return on a journey to discover Starlord's parents. 
Another Alien sequel means another return to a dangerous planet in which aliens attack humans while they run for their lives. Ridley Scott returns as director of the franchise he launched back in 1979. 
Dwayne "The Rock" Johnson, Zac Efron and Priyanka Chopra come together for the reboot of the long-running Baywatch TV series. Make sure to pack your suntan lotion as the team takes on some heated crimes happening around the bay.
Another year, another Pirates of the Caribbean sequel. Johnny Depp returns as Captain Jack Sparrow, while Orlando Bloom and Keira Knightley also return to the franchise with Javier Bardem playing Sparrow's nemesis, Captain Salazar. 
Wonder Woman is finally making her solo big-screen debut this summer. Gal Gadot stars as the iconic superhero and it tells the origin story of the famous character's beginnings.  
Tom Cruise straps in for the reboot of The Mummy franchise. After a legendary princess is brought back to life out of her crypt, she starts to unleash her powers and the only person who can stop her is Nick Morton. 
7. Cars 3 – June 16
Lightning McQueen is back for another race around the lap in Cars 3. In the sequel, McQueen gets into a deadly crash during a race. While in repair, he meets an upcoming car, Cruz Ramirez, who helps him rediscover his drive. 
Michael Bay is back with Transformers: The Last Knight, another entry in the Transformers franchise. This time around, Optimus Prime has left the humans and Transformers at war with one another but there is one secret that can stop it all. 
The Amityville house is open once again. In Amityville: The Awakening, a new family moves into the famously haunted house because no one seems to learn their lesson. This poor real estate decision doesn't prove too promising as things go expectedly evil for the home's new residents. 
Gru is back for Despicable Me 3 and this time, he brings along his brother, Dru. Steve Carrell does double duty voicing both brothers in the sequel, with Kristen Wiig, Jenny Slate, Russell Brand and more lending their voices to the all-star cast. 
After his reintroduction in Captain America: Civil War, Spider-Man is getting another shot at his own franchise with Spider-Man: Homecoming. Following in the famous webbed footsteps of Tobey Maguire and Andrew Garfield, Tom Holland is the newest Peter Parker. The movie also stars Robert Downey Jr. as Iron Man, Marisa Tomei, Zendaya and Michael Keaton as The Vulture. 
The apes are ready for war in the latest Planet of the Apes entry. Following Dawn of the Planet of the Apes, Caesar, played by Andy Serkis, looks back at all that has happened and how they got here as an all out war breaks out.  
Annabelle, The Conjuring spinoff, was a huge box-office win, so, of course, it landed a sequel. Annabelle: Creation is set to spook audiences with the story of how the creepy doll came to life, killed her own doll maker and started her career of killing people. 
Mic has ongoing movie coverage. Please follow our main movies hub here.