'League of Legends' DirectX error 2017: What to do if you encounter the issue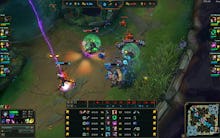 Some League of Legends players reported recently that they're experiencing issues playing the game. They say that they're receiving something called an "unknown DirectX error." 
If you're one of those people, we have a solution for you.
How to fix the DirectX error in League of Legends
According to both a forum on StackExchange and the League of Legends boards, the solution is that you need to delete your Config folder. This is usually found in C:\Riot Games\League of Legends\.
That should be all you need to do to deal with the DirectX error plaguing your League time.
More gaming news, updates, tips and tricks
Check out the latest from Mic, including our deep dive into how female Overwatch players are dealing with online harassment, an article about a fan movement advocating for more same-sex romance options in Mass Effect, a personal essay about JonTron written by a fellow Iranian-American and an article looking at cultural diversity in Overwatch.