'Sense8' Season 2: What to expect in the new episodes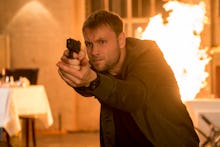 Fans of Sense8 can expect a heady mix of action, romance and philosophizing in season two of Netflix's cult drama, which drops Friday. With Lana Wachowski taking on sole showrunner duties and newcomer Toby Onwumere stepping into the role of Capheus, the show is primed to resume with renewed focus and direction. If you watched December's Christmas special, you might recall where some of the sensates ended up — but you should still expect some curveballs in season two.
Whispers is still tracking sensates
According to a Netflix press release, season two of Sense8 will still follow main villain Whispers in his hunt for the sensates through Will. It seems Wachowski has been able to center the show's storytelling efforts around the main plot that affected the sensates in season one. One of the major issues Sense8's first season was its penchant for tangential narratives, so this may be a sign season two will take a more streamlined approach.
The stronger focus on Whispers also suggests viewers will see more of the eye-poppingly inventive Wachowskian action scenes they came to appreciate in season one, as photos from season two promise a healthy dose of martial arts and explosions.
Character shakeups and a new villain?
In addition to Onwumere assuming the role of Capheus, Daryl Hannah — who plays the mysterious, deceased Angelica — has confirmed she'll have a larger presence in season two. There are also signs of a possible new villain, as viewers are still uncertain about the identities of those crooked lawyers who came after Sun in the Christmas special. It's possible they could work for shadow organization BPO, or they may have something to do with Sun's criminal brother.
The sensates are now a cohesive unit
After experiencing literal intimacy with each other through a series of orgies, it would be surprising if the sensates didn't remain as close in season two. Netflix promises season two will feature more of the sensates relying on each other, while photos of the group prove they've become more comfortable with their abilities to assist each other.
It also helps that the sensates are on more solid ground as individuals. When we last left the sensates in the Christmas special, Lito and Hernando were out and proud, Riley had taken over caring for Will, Wolfgang was attracting the attention of Berlin gangsters and Sun was fending off those shady lawyers. With the show's various chess pieces in place, the sensates are more positioned to cross paths and work together. 
Speaking of orgies 
Tuppence Middleton, who plays Riley, hinted to IGN that fans can expect even more of the series' memorable scenes of, uh, intimacy. Gotta please the fans, right? 
Check out the trailer for season two below. 
Mic has ongoing coverage of Sense8. Please follow our main Sense8 hub here.