'Harry Potter and the Cursed Child' Broadway premiere date, ticket information announced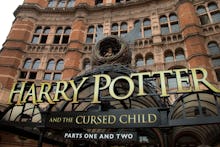 Come spring of 2018, the West End will no longer have a monopoly on theatrical Harry Potter. The magic will be coming to Broadway, too.
Following the previous announcement of its transfer, Harry Potter and the Cursed Child opens in New York City's Lyric Theatre on April 22, 2018, according to a press release. As it was in London, the play will be presented in two parts, with casting news to come in the next few months.
The Lyric is currently empty following the closing and relocation of Cirque du Soleil's Paramour; the theater is undergoing renovations to prepare for Harry Potter's arrival. The April 22 premiere likely lands Harry Potter and the Cursed Child within the window of contention for the 72nd Tony Awards in 2018, should the season's timeline mirror this year's. If the Olivier Awards are any indication, Harry Potter will do well at the Tonys: It recently picked up nine prizes at the United Kingdom's theater awards.
Tickets will go on sale in the fall. Those especially eager to see a grown-up Harry Potter can sign up for future updates on the Harry Potter and the Cursed Child website.
Mic has ongoing Harry Potter coverage. Follow our main Harry Potter hub.