Donald Trump is meeting with the Pope. Here's why that could get real interesting.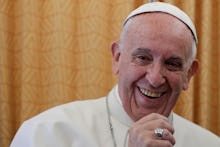 On Thursday, the White House announced that President Donald Trump will meet with Pope Francis at the Vatican later this month during his first trip abroad as president.
Trump will visit Saudi Arabia, Israel and Rome "in an effort to unite three of the world's leading religious faiths" in a joint fight against terrorism and intolerance, the Washington Post reported.
His meeting with the pope could get very interesting: The two go way back.
In February 2016, then-candidate Trump got into a public brawl with the pontiff after Pope Francis told reporters that "a person who thinks only about building walls, wherever they may be, and not of building bridges, is not Christian. This is not the gospel."
Team Trump spun up the outrage machine in the wake of the comment, which came as the GOP presidential hopeful was embroiled in a primary fight for South Carolina, a deeply religious — though not overwhelmingly Catholic — state.
"Amazing comments from the Pope, considering Vatican City is 100% surrounded by massive walls," Trump's social media director Dan Scavino Jr. tweeted.
Trump himself sought to play off Pope Francis as a puppet of Mexico, calling the supposed questioning of his religious faith "disgraceful" and telling supporters, "So the Mexican government fed the pope a tremendous amount of stuff about 'Trump is not a good person.'"
Francis later sought to squelch the drama, with a Vatican spokesman stressing that the pope hadn't been referring to Trump specifically, nor had he meant to influence the U.S. presidential election. 
Trump, in turn, called Francis "a wonderful guy" and blamed the media for the squabble.
That doesn't mean, however, that the Holy Father has changed his opinion about walls:
Then in March, Reuters reported that "Cardinal Peter Turkson, a close aide of the pope, urged Trump to listen to 'dissenting voices' and reconsider his position on climate change" after Trump signed legislation to take apart environmental regulations championed by former President Barack Obama.
The announcement of Trump's travel plans came the same day he signed an executive order which would allow religious organizations to endorse political candidates without endangering their tax-exempt status.