Sunny Co Clothing says it's giving free swimsuits to Instagram users. Should you trust it?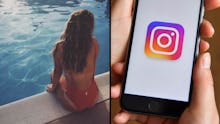 Avid Instagram users may have noticed their feeds flooded with a mysterious image of a faceless girl wearing a red bathing suit over the past 72 hours. The prevalence of the image is a testament to how much people love a good deal. Or, in this case, a freebie just in time for summer.
Why are you seeing red swimsuits on your feed?
Sunny Co Clothing held a promo for 24 hours that had a stipulation that users share a picture it posted on its Instagram page. The deal — which started Tuesday, May 2 and ended Wednesday, May 3 — offered a free bathing suit to users who re-share the post and tag the company. After 24 hours, the company promised to reveal a code (they have since revealed the promo code: sunny) that works for users who followed the rules.
The image applicable for the freebie features a model sitting poolside in a red one-piece. Specifically, the brand's Pamela Sunny Suit, which sells for $64.99. Users can receive a "free" swimsuit by paying for shipping and handling.
To make the deal even more alluring, Sunny Co Clothing claims a portion of the proceeds go to Alzheimer's research. The brand's Instagram bio says $1 of each purchase will go to research but it is unclear if a free swimsuit qualifies as a purchase.
What is the promo for?
At this point, Sunny Co Clothing has gone viral so the company has made a name for itself. But the actual promotion was sponsored by Twazer app, a college marketplace application allowing students to sell and buy goods.
How are people responding to the promo?
Tons of people took part in the promotion, hence why your feeds were potentially flooded with a red bathing suit pic. But others — say those not in the market for a red bathing suit or disgruntled users tired of seeing the picture pop up in their feed — did what the internet does best: made memes and poked fun.
Is it real?
Just because you shared and tagged doesn't mean you'll get a bathing suit. Sunny Co Clothing backtracked on the original promo, which has over 340,000 likes on Instagram, once it went viral. In a separate post, the company mentioned it may impose a cap but has not revealed how many complimentary bathing suits it plans to honor. "Due to the viral volume of participants, we reserve the right to cap the promotion if deemed necessary," the company wrote.
It also warned of shipping delays. "Due to the overwhelming volume of orders we will work as fast as we can to process + ship (approx. 3-6 weeks) but there may be delays," the company wrote.