House Republicans vote to defund Planned Parenthood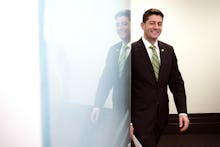 Republicans in the House of Representatives just voted to defund Planned Parenthood.
In a Thursday afternoon vote, the House passed the American Health Care Act 217 to 213. Republicans' proposed repeal of the Affordable Care Act now moves on to the Senate, after the House failed to advance a less extreme version of the AHCA in March. Like its predecessor, though, the revised AHCA cuts federal funding to organizations that provide abortion, a measure specifically aimed at bringing down Planned Parenthood.
"This is the worst bill for women's health in a generation," Cecile Richards, President of Planned Parenthood Federation of America, said in an emailed statement. "This disastrous legislation once again makes being a woman a pre-existing condition; 'defunds' Planned Parenthood; guts maternity coverage; strips 24 million of their health insurance; lets insurance companies charge people with pre-existing conditions exorbitant rates; forces new moms back to work shortly after giving birth; and reduces access to contraception."
"In short, this bill makes it harder to prevent unintended pregnancy, harder to have a healthy pregnancy, and harder to raise a family," Richards added. "Alarm bells should be ringing in every house across America."
The largest reproductive health care provider in the country, Planned Parenthood receives over $500 million from the federal government each year, around 43% of its budget. The government awards that money in the form of Medicaid and Title X grants. In accordance with the Hyde Amendment, which prohibits the government from using Medicaid funds for abortion except in three very narrow cases (rape, incest and threat to the mother's life), Title X funds never go toward abortion, which only comprises roughly 3% of what Planned Parenthood does, anyway.
What House Republicans have done is moved to block access to free or low-cost reproductive care for people who otherwise wouldn't be able to afford it. 
Planned Parenthood provides breast cancer and STI screenings, pelvic exams, pap smears, contraception, sex education and more, to patients in low-income communities, people of color and in isolated rural communities. Indeed, Planned Parenthood estimates that 54% of its centers are in medically underserved areas or areas where access to health care providers is slim. Of the 2.5 million patients Planned Parenthood serves annually, 75% earn incomes that place them at or below 150% of the federal poverty line, and 60% rely on government grants to get treatment.
All of which may explain why multiple polls reflect widespread public support for funding Planned Parenthood. Another popular feature of the ACA that the AHCA revokes is coverage for people with preexisting conditions, a concept that garnered support on both sides of the aisle and, if eliminated, would have terrible repercussions for millions of people. These provisions could have grave consequences for women's access to reproductive health care, especially poor and working class women.
In a statement, Debra L. Ness, President of the National Partnership for Women and Families, called House Republicans' AHCA passage "a callous move that imperils women's health and economic security."
"By voting for this bill, House Republicans ignored overwhelming public support for the Affordable Care Act (ACA) as well as opposition to eliminating important protections guaranteed by the law," Ness said. "They have made it clear that scoring political points is more important to them than protecting the health, well-being and economic security of our nation's women and families."
May 4, 2017, 2:43 p.m.: This article has been updated.