Miley Cyrus slams hip-hop culture in 'Billboard' profile: "I can't listen to that anymore"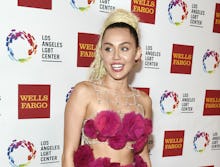 Miley Cyrus has hopped off the hip-hop bandwagon.
Though she rose to fame on the power of twerking and hip-hop producers like Mike Will Made-It, Cyrus said she's no longer a fan of the genre, claiming it's too misogynistic for her taste. 
In an interview with Billboard, the 24-year-old singer said that while she's a fan of Kendrick Lamar's new song, "Humble," she's putting some distance between herself and hip-hop. 
"I also love that new Kendrick [Lamar] song ["Humble"]: 'Show me somethin' natural like ass with some stretch marks,'" she said. "I love that because it's not 'Come sit on my dick, suck on my cock.' I can't listen to that anymore. That's what pushed me out of the hip-hop scene a little. It was too much 'Lamborghini, got my Rolex, got a girl on my cock' — I am so not that."
Cyrus's critique of hip-hop culture is valid on one level, given that hip-hop, like American culture in general, has the capacity to be misogynistic. However, her comments ignore the many ways in which Cyrus herself has participated in the marginalization of black women, like using them as props during some of her performances, including her infamous 2013 MTV Video Music Awards twerkathon.
Both male and female MCs have pointed out problems with misogyny in hip-hop. And stars like Nicki Minaj — who too often deal with misogynoir — have also called out Cyrus on her lack of respect for black women.  
Treva B. Lindsey, a professor of women's, gender and sexuality studies at Ohio State University, told Mic in a phone interview that she found Cyrus's critique of hip-hop, a genre in which she found broad mainstream appeal, "disingenuous." 
"Hip-hop is intimately tied to the ascension of Miley Cyrus beyond Hannah Montana," Lindsey said. "I appreciate anyone critiquing sexism and misogyny in pop culture, but it's fascinating that her critique goes to hip-hop culture and not culture more broadly." 
Ana "Rokafella" Garcia, a hip-hop choreographer and professor at the New School, said she wasn't surprised by Cyrus's remarks. 
"If you're depending on Hollywood or the industry to define a culture for you, you're sadly mistaken," Garcia told Mic in a phone interview. "Anybody whose exposure to hip-hop is limited to the mainstream, they're only witnessing a small percentage of what really makes up hip-hop." 
Cyrus's characterization of hip-hop culture as purely misogynistic also misses the reality that hip-hop has been one of music's most progressive genres. Lamar, whom Cyrus cited as a rapper she likes, has rapped at length about racial justice and the responsibility of hip-hop artists, while Beyoncé crafted Lemonade — one of the most powerful, visceral celebrations of black women — in the hip-hop genre.
May 6, 2017 at 6:59 p.m.: Cyrus has responded to the controversy surrounding her remarks on Instagram, saying they were sensationalized and she will "continue to love and celebrate hip-hop" but is "expanding personally/musically and gravitating more towards uplifting, conscious rap!"
"As I get older I understand the effect music has on the world, and seeing where we are today, I feel the younger generation needs to hear positive powerful lyrics!" she added.