An anti-choice center has opened across the street from Mississippi's last abortion clinic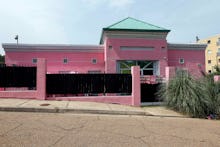 Being the last remaining abortion clinic in Mississippi, Jackson Women's Health Organization is already in a pretty precarious position. And now, there's a new bully on the block — literally. 
According to Pregnancy Help News, an anti-abortion rights outlet, a pregnancy crisis center called "Center for Pregnancy Choices" has opened just 100 yards away from its abortion-providing neighbor. 
Apparently, the center's grand opening represents the "intervention piece" of founding board member Barbara Beavers' master plan to help deter women from terminating their pregnancies. Beavers and her team began scouting potential spaces for the new center — one of three in the state — in 2014, settling on the location just spitting distance from Jackson Women's Health Organization. At the time the space was out of their price range, but with a little fundraising and some help from Duck Dynasty's Phil Robertson and Mississippi Gov. Phil Bryant, they were finally able to afford it.
"It's so pretty inside," Erin Kate Goode, the Center for Pregnancy Choices' executive director, told Pregnancy Help News. "It's new and fresh, and that's important in a neighborhood like this. It's artsy and definitely not the conservative group. We're excited to be there to serve and be a resource to the community."
Crisis pregnancy centers have a reputation for peddling false information to their patients about birth control and abortion. Often, these clinics even masquerade themselves as abortion providers to deceive women trying to terminate pregnancies and make it so that they miss the window in which they can legally obtain an abortion.
Jackson Women's Health Organization Director Stacey Brewer, though, said she doesn't anticipate any more problems than the center's anti-abortion advocates have already given the clinic.
"The people from the Center for Pregnancy Choices are the same people who have been antagonizing and harassing patients," she said on Thursday. "They can't change anyone's minds — these are grown women who have made their decision."
The Women's Health Organization is already equipped with volunteer escorts and security to keep patients entering and exiting the clinic safe and protected. But for any patients who might find the new pregnancy clinic too close for comfort, Brewer has a simple message: Stay strong. 
"These women are standing out there judging you without knowing your situation and trying to make a decision for you that only you should make," Brewer said. "I applaud the women who come into our clinic. Hold your head up high — you know what you want to do and no one else can tell you what to do."