'Survivor' star Zeke Smith on his elimination: Sarah Lacina "made the right decision"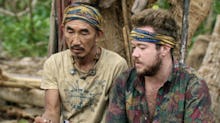 Zeke Smith had quite the run on Survivor: Game Changers. But on Wednesday night, his luck ran out. Zeke became the 11th person voted out of season 34 in episode 10.
It was a shocking elimination, but the writing was ultimately on the wall. Zeke Smith had a target on his back ever since Jeff Varner outed him as transgender in episode six. 
The now-29-year-old Survivor star broke down his season 34 game play, being a role model and more in a phone interview with Mic.
[Editor's note: This interview has been edited for length and clarity.]
Mic: You've played such an amazing game the past two seasons of Survivor and your elimination was so surprising to me and to most of the people who watch. Did you see your elimination coming? What was your initial reaction?
Zeke Smith: I did not see it coming. I was completely blindsided. But I think that's because I was riding the coattails of one person and that was Sarah Lacina. And either I could trust her or I was going home. That was sort of the point I was at in the game. 
I thought I could trust Sarah for a couple more votes, but to be honest I think if she tried to save me it really would have affected her game. She made the right decision by cutting me loose.
Would you have done anything different this season to further yourself in the game?
ZS: I don't think I would have done anything differently. After the Varner incident I felt this atmospheric shift in my position in the game. I had this compelling story which I think really scared people to bring me really far in the game. That just became very clear. I was the decoy vote when Hali [Ford] went home and people told me why. People weren't as interested in talking strategy with me anymore and I think I resolved, when I decided to keep playing, that I didn't want anything to change. I still wanted to be that big, swinging, reckless Survivor player I've been known to be; I wasn't going to stop that. I rather go out throwing punches than just sitting around waiting to get voted out.
That's so inspiring in so many ways. How did you manage to pull everything together after the Varner tribal?
ZS: I had this moment that night sitting in the shelter and everyone was asleep and I was just like: "Alright, what are you going to do?" I had two options. I could either not play or I could play. And I said, if you play, there is no crying, there is no moping, there is just playing. 
Trans people face an overwhelming amount of violence and discrimination and harassment. Often the result can be depression, self-harm or suicide. I sort of knew that I had been put in the position where I really needed to model resilience. Winning was no longer the goal. [I wanted to] demonstrate that nothing would deter me from being the Survivor player I wanted to be, because that was my goal, and that's what I thought of every day. Just play the game. Play the game like it's your last day. I just took it from there. 
I don't know if you know, but Hannah Shapiro has been writing Mic's Survivor recaps this season.
ZS: Yes, I'm aware [laughs].
In Hannah's reaction piece to the Varner tribal she wrote that you were uncertain of the title of role model. But it seems that you're someone that many young people look up to and will look up to. Do you have some sort of message you want to give to young kids, especially those who are transgender?
ZS: It's not sort of a position I really wanted to be in, but it's something I try to take seriously — the platform that I've been given. I think I want to say is that there was a misconception I held that there were places I didn't belong because I was trans. Survivor was even one of those places ... I don't think there is any place we don't belong. It's definitely difficult and scary to have to blaze a new trail. You have to be able to advocate for yourself and teach other people how to treat you. But it's worth doing because it's very much worth going after your dreams. And trust that the world is changing. Also trust in that you'll be able to handle whatever the journey throws.
Back to the game. What has the response been like since your time on the show? You went right from season 33 to season 34.
ZS: Well, I think obviously the biggest response was to what went down between Varner and I, and the response there has been overwhelmingly positive. I would say like 98% positive, which is just so much more than I think I or anyone else anticipated. Typically when a trans person enters the public spotlight they don't receive the warm welcome that I did. They go through a lot of questioning or exploitative headlines and photos from their past dredged up. It can really be pretty terrible. But then mine was just so positive. I think it's really humbling and I hope it marks a shift in the way in which trans people are treated in the media. And I really hope that trans people who enter the spotlight going forward are treated with the same respect in the media that I was.
Do you have any post-Survivor plans? Do you plan on going for season 35? Give me some insight!
ZS: Oh my goodness. I can't say that a triple Survivor is in the cards. My world's been opened up quite a bit and I'm excited to embark on new adventures. Maybe in a few years, Survivor will be in the cards, but maybe not. I can't say quite yet.
What has been your favorite memory from your two seasons on Survivor?
ZS: My favorite memory — well, one that really sticks out for me — is in season 33. Bret [LaBelle], Hannah, Sunday [Burquest] and I won a pizza reward at this floating pizza restaurant. And after we ate pizza and drank a few beers, all of us climbed to the second story and jumped into the sea. It was a moment of pure joy in the middle of paradise and I'll never forget it.
Mic has ongoing Survivor coverage. Check out our main Survivor hub here.