'Overwatch' Anniversary Event Rumor: Data mines seem to indicate a new update in May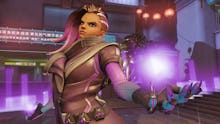 Overwatch fans have long speculated that Blizzard might have something up its sleeve to celebrate the game's one-year anniversary on May 24, and thanks to a data mine of Overwatch's latest patch on the PTR, an anniversary event seems increasingly likely. 
Here's what the new data mine suggests, according to YouTuber Hammeh.
Overwatch Anniversary Event Rumor: YouTuber claims public test realm patch contains new event files
According to Hammeh's latest video, data about a new in-game event is hidden within the latest PTR patch that buffed Hanzo and Genji. There's nothing within these files that explicitly ties them to the Overwatch anniversary — so, that's a bit of a leap that Hammeh makes — but given the timing, it would certainly make sense.
Hammeh describes the files as being hidden behind a wall that can only be accessed by using a key — in all likelihood, in order to prevent these pesky data miners from uncovering too many Overwatch secrets ahead of time. However, according to Hammeh, he can still see that there are hidden files there, but just can't see what exactly they are. Here's how he describes it:
"I can see that the lock exists, but I don't have the key to unlock it." 
Specifically, Hammeh points to several files he says exist in the PTR labeled "event six," which he thinks points to a new Overwatch event. That makes sense, given that there have been five Overwatch events so far — Summer Games, Halloween Terror, Winter Wonderland, Year of the Rooster and Uprising.
According to the data mine, here's the full breakdown of items — like skins, victory poses, etc. — that each Overwatch character will have in the upcoming event. Keep in mind, this is all speculative at this point and may or may not turn out to be 100% accurate, so take this information with a grain of salt:
Reaper — 8
There's nothing within the PTR to suggest that this event is tied to Overwatch release date anniversary, but given our current proximity to that May 24 date, it certainly seems possible.
If any other Overwatch data mines become available, Mic will let you know.
More Overwatch news and updates
For more on Overwatch, check out the rest of what Mic has to offer. Here is an essay about how Efi Oladele was a missed opportunity for Overwatch, a deep dive into the issue of sexual harassment in Overwatch voice chat, an unintentionally hilarious infographic showing the most popular Overwatch characters in each state, a criticism of Blizzard's failures in its design of Symmetra and a dive into a cool trend on Tumblr that converts your most-played heroes into a psychedelic illustration.