3 key takeaways from Trump's religious freedom executive order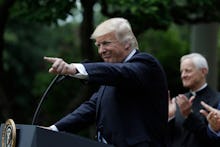 President Donald Trump signed an executive order on Thursday designed to placate social conservatives who believe religious freedoms were unfairly restricted throughout the Obama administration.
But, unlike the sweeping proposal introduced earlier this year, the new order lacks a key provision religious conservatives wanted to see and could backfire by empowering their religious opposition to speak more freely as well.
Here are the major points people should know about today's signing of the Promoting Free Speech and Religious Liberty executive order. 
Churches will feel emboldened to overtly engage politics
The most notable element of Trump's executive order is the provision designed to roll back strict enforcement of the Johnson amendment.
The amendment states that tax-exempt organizations "are absolutely prohibited from directly or indirectly participating in, or intervening in, any political campaign on behalf of [or in opposition to] any candidate for elective public office."
This has prevented churches from endorsing political candidates for fear of losing their tax-exempt status. While a repeal of the law would require an act of Congress, Trump's order instructs the IRS to use "maximum enforcement discretion" to avoid curtailing religious speech.
Interestingly, according to a 2016 survey, a wide majority of Americans — 71% — oppose the repeal of the amendment. No religious group supports its repeal, and only 36% of white Evangelicals want churches to be able to endorse political candidates.
Some also fear churches could become sources of dark money for candidates.
Original provision allowing discrimination against LGBTQ people is gone
The final executive order did not include the language that would allow organizations to discriminate against LGBTQ people or other minority groups on the basis of religious prejudice.
Vice President Mike Pence was behind a now-gutted Indiana effort to legalize anti-LGBTQ discrimination while he was governor, stoking fears among critics that he would make a second attempt on the national level as a member of the Trump administration.
Instead, the resulting order Trump signed completely cut the discriminatory sections of the original order that was leaked to The Nation in February. 
Contraceptive care and abortion access are in danger
The final order does allow religious employers to refuse insurance coverage for certain services by offering "regulatory relief" to those organizations.
This undercuts an Affordable Care Act coverage mandate requiring coverage of contraceptive care. But courts were already poised to start rolling back the initial mandate. 
The Supreme Court gave a limited ruling in the 2014 Hobby Lobby case which found that forcing organizations to cover contraceptives against their religious beliefs violated existing federal law ensuring religious freedom.