'Clash of Clans' Upcoming Update: Broken boat hints at possible ship feature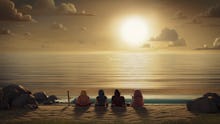 There's good news for devoted Clash of Clans players: Supercell's popular mobile multiplayer strategy game is teasing a big new update soon. We hope you don't get seasick.
Clash of Clans broken boat teaser hints at ship update
The Christian Post has a complete rundown of the trailer, which seems to tease the oft-rumored shipwreck feature. Basically, you'll be able to use a ship to manage multiple villages at once. That would be a big addition to the game, which has only gotten balance changes so far in 2017. 
Additionally, Twitter user Mythical Squad posted a supposed screenshot of the update and claims it confirms the presence of a shipyard. That means there will be even more things to manage and spend money on. There's no release date for this update yet.
More gaming news, updates, tips and tricks
Check out the latest from Mic, including our deep dive into how female Overwatch players are dealing with online harassment, an article about a fan movement advocating for more same-sex romance options in Mass Effect, a personal essay about JonTron written by a fellow Iranian-American and an article looking at cultural diversity in Overwatch.