This is why a 'Pokémon Go'-themed episode of 'The Simpsons' will not air in Russia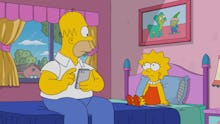 The Simpsons has never shied away from poking fun at topical issues and pop-culture phenomenons. The most recent episode, titled "Looking for Mr. Goodbart," featured Homer Simpson playing Peekimon Get, an obvious play on the popular mobile game Pokémon Go (a craze which, it should be noted, The Simpsons did not foretell). 
Much like Pokémon Go, Peekimon Get can be quite addictive, and not even a trip into a church forces Homer to put his phone away. And apparently, for this reason, Russian television station 2x2 has decided not to air the episode.
According to the Hollywood Reporter, the decision not to air the most recent episode of The Simpsons comes after growing criticism from the Russian Orthodox Church regarding the scene in which Homer enters a church looking for Peekimon. In response to the criticism, 2x2 decided to pull the episode as "it could compromise the network and cause controversy."
The scene causing the controversy is remarkably similar to a situation that may send Russian YouTuber Ruslan Sokolovsky to jail. In 2016, the vlogger was arrested for posting a video of himself playing Pokémon Go in church. As of Thursday afternoon, the video has been viewed on YouTube over 1.8 million times — which is apparently quite a few more views than The Simpsons' most recent episode will get in Russia. 
Mic has ongoing coverage of The Simpsons. Please follow our main The Simpsons hub here.