New 'Sense8' trailer promises war in season 2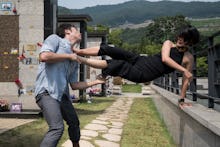 A new trailer for Netflix's Sense8 confirms that no one is safe in the drama's upcoming second season. Following up on the Christmas episode's promise to pit the enigmatic Whispers against Will and his fellow sensates, the action-packed spot features Will telling the others that "nothing changes if we keep playing it safe." Amid explosions, taekwondo and tense shots of the sensates in hiding, Whispers tells Will, "It is not a game. This is a war." 
The trailer then cuts to Sun kicking butt and plowing through a Korean marketplace on a motorcycle with Capheus. The imagery is reminiscent of another action-heavy Wachowski flick: Cloud Atlas, which also had Doona Bae fleeing through a menacing version of Korea. 
True to the season's tagline of "survive together," we see many hints that season two will hinge upon the sensates' ability to support each other across the globe. Although we don't see glimpses of the many season two sex scenes that we've been promised, we do learn that Whispers may have his own team of sensates whom he wants to pit against Will's gang. As Kala tells the rival sensates, "Bring it, bitch." 
It seems as if Lana Wachowski, in her new role as sole showrunner, has chosen to tighten the focus of season two around a fight for survival.
Check out the trailer below.
Mic has ongoing coverage of Sense8. Please follow our main Sense8 hub here.