Tips that pay off: Use the power of 3 to make your money and your stress work for you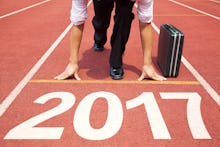 You have big goals. Maybe it's to own your own place one day. Maybe it's to go on a big trip this year. Maybe it's to actually be able to retire one day. Whatever your goal is, how to reach it doesn't need to be a mystery! Choose your own adventure and we'll help make it as successful as possible in three tips or less.
Restaurant mogul Mario Batali's expertise doesn't stop in the kitchen — he knows the key things you need to take stock of to set yourself up for success. Just like his recipes, plans help but going with your gut and staying flexible can save more than a dish! Here are his 3 tips to staying on top of your game.
If you're just saving your money in a plain bank account earning 1% a year, and you're not investing it, you aren't mastering the path to financial success. What's holding you back? For many it all comes down to one word: risk. We get it. No two people have the same incomes, goals and priorities, and these factors are all crucial for creating an actual investment plan. All of this plus the fear of financial risk can make planning seem overwhelming. But knowing what questions to ask and how to answer them helps — here's some advice to help you get started.
Everyone's eager to figure out how to worry less, but it turns out that could be hurting you in ways you don't even realize: A new paper from researchers at the University of California, Riverside found that worrying has real benefits. The secret is making it work for you!
In other words, instead of pretending you're not a worrier, learn how to channel your anxiety into constructive action. Here are three ways you can worry your way into being richer.
Saving $1,000 a year may sound tough, but you've never backed down from a challenge. You definitely don't want to back down from a plan that puts an additional $1,000 or more in your pocket. Plus, this savings plan doesn't involve suffering through cans of beans and night after night with no going out plans.
No matter where you stash your savings, we have three ways to make sure you actually have some in the first place.
Now that you've smartened up on how to invest effectively and have the extra funds, it's time for a vacation! Don't let all that hard work get off to a bad start. Just when you thought you couldn't feel even more like a sardine in the sky, American Airlines announced it plans to pack passengers in even tighter. Sadly, other airlines will likely follow suit. So how can you have a pleasant flying experience when an already packed flight is cramming more people together, especially if you are destined to fly economy?
For one thing, don't pull out a tuna fish sandwich mid-flight for a snack. Also, here are three things you can do to make the most out of your flight.
Sign up for The Payoff — your weekly crash course on how to live your best financial life. Additionally, for all your burning money questions, check out Mic's credit, savings, career, investing and health care hubs for more information — that pays off.